You'll swarm to this new cafe, says Ben Crawford.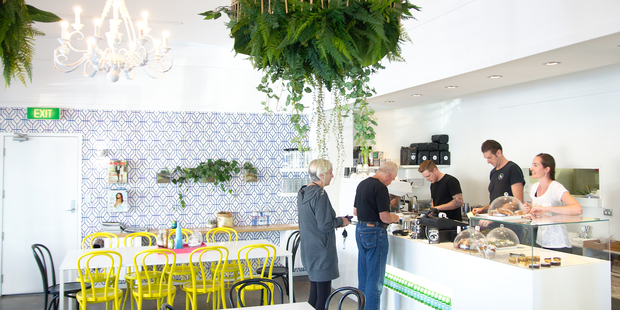 I'm like a bee to a honeypot. Libby and I recently shifted the Auckland office of our advertising agency to Takapuna, literally around the corner from The Block NZ house that has provided us with so many opportunities since we downed our tools in 2012. In fact, I've decided to move my entire life over to the other side of the bridge, switching inner-city living for the more relaxed beach lifestyle of the East Coast Bays.
As a self-confessed caffeine addict, I was delighted and somewhat concerned to discover a beautiful little cafe called Honey mere metres from the front door of my new office.
I was delighted by the perfect coffee, delicious food, stylish fit-out and welcoming smiles, but concerned about whether I'd have the self-control to take the short stroll only once per day.
Three weeks in and I'd give myself an F. I've been swarming around Honey almost twice a day for my necessary caffeine fixes and again most weekends for a post work-out brunch.
Honey is situated in the old courthouse building on Huron St, somewhat of an unexpected location for a Takapuna cafe where the famous beachfront attracts most of the attention.
I caught up with Jules Glasgow, the owner and visionary behind Honey this week to find out a little bit more about my new cafe hang-out.
Glasgow took over the old cafe that had been running from the premises in April last year. The space was almost entirely decorated from floor to ceiling in chocolate brown, creating a closed-in, claustrophobic atmosphere. Not ideal, given the open, outdoor atmosphere Takapuna locals and visitors are accustomed to in the seaside area.
Naturally the first job was to rectify that. Five coats of white paint later, the space appeared twice the size and Glasgow vowed to never touch a paintbrush again.
With a blank canvas in place, Glasgow tasked her friend and aspiring decorator Jessica Bruton with the fit-out, the only stipulation being that yellow had to be used as a highlight colour.
The duo bounced ideas off each other throughout the process and played a balancing act with a tight budget to create the final design.
Undoubtedly the most noticeable features in the cafe are the giant baskets cascading from the ceiling featuring ferns, ivy and other luscious greenery that creep towards the diners below.
The wicker containers were light shades before Bruton saw the opportunity to turn them into planters. By painting the two large chandeliers that came with the premises white and hanging the baskets between them, the team were able to create a sense of intimacy within what could have been an echoing cavern, given the high ceilings and polished concrete floors.
Driving through Grey Lynn one day, Glasgow spotted some yellow wire and timber stools in the window of a design store and had one of those "I must have them" moments.
They're an appropriate addition to Honey, resembling a stylised beehive, along with the feature honeycomb-esque wallpaper in ginger-jar blue. Combined with wall-mounted planter boxes and a timber shelf, they form a tranquil entrance and a perfect spot to wait for your coffee-to-go.
On the deck running the length of the cafe, two rows of beautiful copper-topped tables provide plenty of outdoor dining options. However it wasn't until Glasgow starting sanding the inherited painted tables that she discovered the metallic treasure sitting below the layers of paint. By introducing copper newspaper holders inside, she cleverly tied the two areas together.
What I love about Glasgow's renovation story is how resourceful she was. By focusing on repurposing as many items as possible with a simple lick of paint, then investing in a handful of feature pieces, she has illustrated that with some old-fashioned hard work and creative thinking, a sophisticated, welcoming and fresh transformation is achievable without spending a fortune.
It's a great approach to consider when doing up your own home. Rather than immediately rushing out the door to buy the newest furnishings, take a look around your house and see what you can do to upcycle items you already own.
If you want some clever DIY ideas coupled with a great brunch, head along to see Glasgow and the team at Honey. They love to chat. But you've been warned; you will find yourself coming back again and again, just like a fellow bee to the sweet, sweet honeypot.
• Find it: Honey Cafe. 12 Huron St, Takapuna.