On the eve of the Duke and Duchess of Cambridge's visit to New Zealand next month, with little Prince George, Jane Phare remembers another much-anticipated April arrival of a young royal couple and their baby, 31 years ago.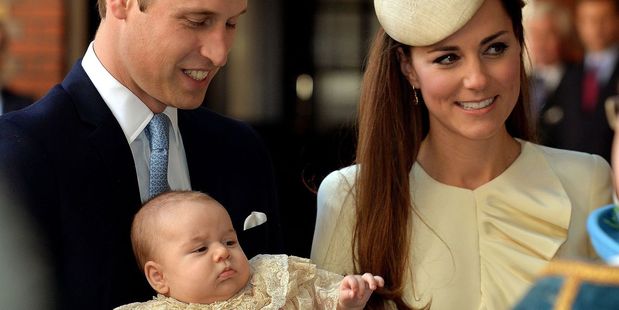 When the Prince and Princess of Wales strode across the tarmac at Auckland Airport to greet thousands of Kiwi fans waiting eagerly behind barriers, the crowd of photographers didn't know which way to point their cameras.
First there was the glamorous Princess Diana, emerging from the Royal Air Force Boeing 727 like a movie star. Then Charles, heir to the throne.
The mob of media, lined up near the Boeing, broke ranks and swooped on the royal couple as they greeted the crowd of 3000, taking tour officials and body guards by surprise.
And then came another distraction - the royal baby.
Balanced on the hip of his nanny, Barbara Barnes, was 10-month-old Prince William, suntanned after a royal tour-of-duty in Australia. A photo of the youngest heir to the throne, dressed in a romper suit and white cardy, was worth gold.
Nanny Barnes stuck to the original plan, marching directly to the line of waiting cars.
Figuring I would see plenty of Charles and Diana in the coming fortnight I fixed my eyes on William as Barnes put him in his carseat, scrutiny that was to prove useful later that day.
It was April 17, 1981, the start of what was to be an exhausting two-week tour for everyone involved. The royal couple would meet, shake hands with, talk to and smile at thousands of people.
And we would record them doing that, rushing back to our offices to bang away on typewriters and develop film.
Following a royal tour might sound glamorous but mostly it's not. The days are long, tiring and, at times, boring. It's hard to make a good story out of ribbon cutting, tree planting and visits to schools.
The days were made longer by the royal couple's request that they return to "home base", Government House in Auckland, each day to see William as often as they could.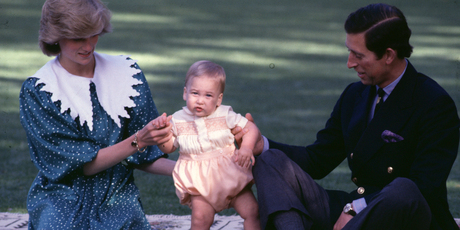 To get us around the country quickly, the media were sometimes loaded on to an Air Force Hercules for long, uncomfortable hours, wearing earphones against the roar and with condensation dripping on our heads. I don't recall anyone using the single urinal-style toilet behind a flimsy curtain.
That first day the media were invited to a cocktail party at Government House to meet Charles and Diana, a tradition at the beginning of most royal tours. As we waited for them to appear, Princess Diana suddenly swooped down the stairs and walked up to our group. Caught by surprise, my three male colleagues just stood, open-mouthed. I'll admit she was quite stunning close up.
The only thing I could think of was to ask her about William's legs.
"Er, ma'am, I noticed William's legs were red at the airport. Did he get sunburned in Australia?"
Shy Di transformed into an animated young mother, telling me how William had, at last, begun to crawl. The British and Australian media had made much of the fact Prince William was slow at crawling. And now, rub marks to prove he could do it!
But because these media parties are strictly off-the-record, I had to keep quiet for more than a week, until the now-famous photo shoot starring the baby prince and a Buzzy Bee on the lawn of Government House. That day Prince William crawled for all the world to see.
Apart from one garden party, Government House was off-limits for the rest of the tour.
But that didn't stop a young Andrew Krukziener and three mates from giving it a go.
Krukziener, now an Auckland father of two boys, borrowed his dad's white Daimler and joined the royal cavalcade as it left the Sheraton Hotel one night. They made it into the grounds of Government House and were even saluted by an officer on their way out.
Pranks and mishaps were welcome blips to the royal tour itinerary because they gave us something different to report. Coverage of royal walkabouts usually meant dashing up to someone in the crowd - just seconds after they had chatted with Princess Diana - and asking "what did she say to you?"
The stunned fan, starting to cry, would invariably say: "Oh ... ah, I can't remember ... oh she's so lovely isn't she? Her eyes are so blue!" Quite hard to make a story out of that.
In Wellington, a few tickets for media to attend a royal banquet at Parliament that night unexpectantly went into a ballot and I was lucky enough to win one. We were halfway through dessert when we heard a commotion up in the gallery. Diana, looking every bit the princess in the Spencer tiara, looked up and froze. A strawberry balanced on her spoon dropped into her lap.
A group of press had bluffed their way past security and were creeping around the gallery, trying to take photos.
And then there was James Whittaker, a royal watcher for the Daily Mirror in London and who had a habit of peering, close range, at royals with his binoculars. At the media cocktail party that first night, Princess Diana had a good-natured go at him. Referring to one of Whittaker's stories, she wanted to know how he knew that she wore thermal underwear on cold days.
"I have visions of you, Mr Whittaker, lying on the ground with your binoculars, trying to look up my dress!" She was flushed and laughing, the crowd in the reception room gathered round her like moths to a light. But Charles, perhaps wondering where the conversation was going to go next, intervened, weaving his way to her side and, with his hand cupped on her back, guided his wife through the throng and out the door. The party was over, just as it was getting interesting.
As a grown-up, Prince William and his wife, Catherine, have no doubt already discovered there is no such thing as a perfect royal tour. No amount of planning can save a tour from those inevitable hitches and bad weather.
In 1983, at an outdoor garden party at Government House in Auckland, a downpour filled the sugar bowls with water and saw the female guests desperately trying to extract their high heels from the soggy lawn.
The 1974 royal Rolls-Royce refused to start in the rain after a visit to a school. And protesters put stink bombs in the foyer of the St James on the night of the ballet, Coppelia, which officials tried to cover up with sickening air freshener.
The Duke and Duchess' tour will be no different. There will be some terrific days when everything goes right. And there will be days when it doesn't.
One thing is for sure, Catherine will be under constant scrutiny from the public and the media - what she wears, what she says, her hairstyles and hats, her jewellery, the size of her mother-in-law's ring, whether or not she looks tired and whether or not that means she's pregnant again.
Poor girl.