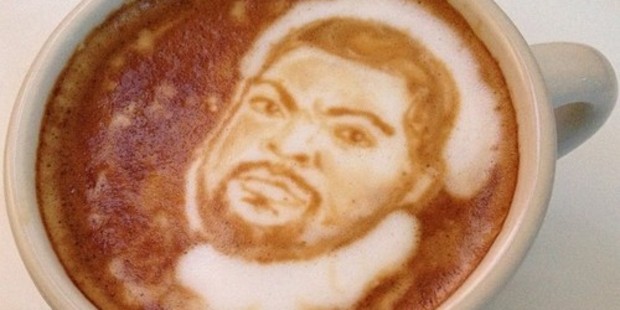 His 'medium' is coffee, his palette is espresso and steamed milk and his only tool is a cocktail skewer.
From Cate Blanchett to the Sydney Harbour Bridge, Michael Breach can 'paint' detailed images of anything and everything in lattes.
The 29-year-old New York "barista to the stars" has made coffee for Denzel Washington, Mike Tyson, Tobey Maguire and Jerry Seinfeld.
"I usually just do their portrait or an iconic image of them from a film," says Breach in Sydney to show his caffeinated art.
"It always surprises them."
The Willy Wonka of the coffee world, whose grandfather was a portrait artist, began painting lattes to entertain himself and customers at a hip Manhattan hotel.
"No one ordered coffee at night as everyone was having cocktails but I'd walk through with these coffees, just set them on the table and walk away.
"I call it latte bombing.
"I'd just sit in the corner and laugh at their reaction."
The self-professed caffeine addict never expected his hobby to become a career that sees him travelling the world to demonstrate his talent.
He gained a following for his latte art after posting photos of his beverages on Instagram.
When celebrities such as Victoria Beckham posted photos of their artistic coffee on social networking sites, his fans ballooned into the thousands.
An artist at heart, Breach says he's always felt a need to draw and paint but found himself intimidated by "big canvas and lots of paint".
Michael Breach's coffee portrait of Lorde:
"I like artwork but I don't like doing artwork that is supposed to be grandiose.
"I do drawing but on the back of receipts, coasters and things like that.
"I don't like the whole permanent thing, I like to live in the moment."
After years of latte art, Breach has found that milk is a very temperamental medium and time is of the essence.
"I can do them pretty quickly now, four or five minutes.
"The coffee is still hot and I'm still able to get the decent contrast with it."
- AAP