Hello Indian summer, you beaut. This is the weekend for flexing our muscles – from the quirky to the serene – and pretending it's nowhere like autumn.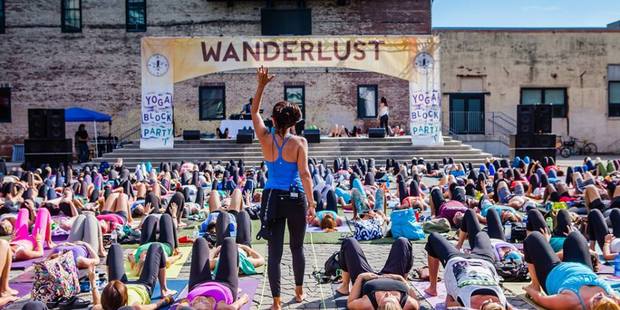 1. Breathe - Wanderlust in the City
Billed as an all-out day of ecstatic celebration, this is the first time the festival comes to New Zealand. With early morning meditations, chakra spinning musical performances plus handcrafted goodies, local and organic foods, wellbeing lectures and yoga classes. Local presenters include Dr Libby, Ladi6, The Bamboos and more. Roll out your yoga mat and head on down.
Details: Western Springs Park, Sunday 8am - late. Main events are free, but premium tickets still available $155 for scheduled yoga, meditation classes and music performances. Website here.
2. Run, climb, bike - Rangitoto Motutapu Dual
Staged on one of the most scenic spots in the Hauraki Gulf islands of Motutapu and Rangitoto, the Partners Life DUAL has trail runs and walks, an off road triathlon and mountain biking.
Details: Registrations on the day at Motutapu from $89 to $177. Tri starts at 8am, shorter runs through the day until 12.30pm. Website here.
3. Paddle - Turangawaewae regatta
A seriously beautiful sight of warrior paddlers on the mighty Waikato - Saturday's parade of the waka taua (war canoes) is the only one this year. Check out the waka rides, marae tours, art and craft exhibitions and plenty of traditional kai stalls, plus the finals of the kopapa and waka ama races.
Details: Friday til 3pm, Saturday 9am - 6pm. Turangawaewae Marae, 29 River Road, Ngaruawahia. Website here.
4. Envy - Muscle cars in Thames
Get yourself in the mood for next weekend's monster Beach Hop at Whangamata with the Monstor car parade and mororama. With the glory days of motors (apparently anything built before 1980 from America, Australia, Europe and Britain) you can drool over them all day. Ankle socks and bovver boy haircuts optional.
Details: Saturday 10.30 - 3pm, Pollen Street North, Thames. Website here.
5. Ride - NRM Horse of the year
The display of truly splendid horse flesh, and deeply clever riders (some 2500 combinations) at the largest equestrian event in the Southern Hemisphere. There's hardcore showjumping and eventing, the stylish showing and dressage, dear little miniatures through to gentle giants, the Clydesdales. Trade booths, super food (stay Sunday for the Hawkes Bay Farmers' Market, the best in the country, we reckon).
Details: Friday extravaganzas and shows at 5.30pm and 7pm, Saturday from 8am till late, Sunday 8.30am - 2pm. . Hawke's Bay A&P Showgrounds,Elwood Road, Hastings. Website here.
This weekend's weather:
Follow Life & Style Online on Twitter here. Follow Life & Style Editor Nicky Park on Twitter and Instagram. Follow Weekend Life Editor Catherine Smith on Twitter and Instagram.
- www.nzherald.co.nz