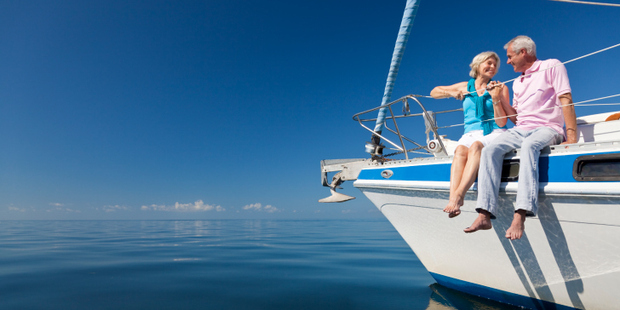 The old-fashioned model of a retired couple sitting around in La-Z-Boy armchairs knitting and watching television is giving way to a new breed of older citizens who travel, shop, play sport, dine out and generally have a good time. As more and more people enjoy good health well into their 80s, there's no reason to sit at home staring at the wallpaper.
That's good news for the retired folk but not such good news for any offspring who may be hoping for an inheritance.
"Spending the Kids' Inheritance" - or SKIing as it is sometimes called - is an increasingly popular phenomenon. The days of older couples leading frugal lives in order to pass on money to their children are long gone.
According to Too many children 'relying on inheritance that they will never get', "37 per cent of parents intend to spend all their money during their retirement and will have nothing left to pass on".
It seems that the generation of people who were burdened with student loans and who have been priced out of the over-heated Auckland property market are likely to be the same people who won't receive an inheritance from their parents. It's a triple whammy that means they seem unable to catch a financial break.
Meet the new SKI set revealed that: "Instead of staying close to home and preserving their hard-earned life savings for their offspring, SKIers are more likely to be sipping cocktails on the beach in Thailand or driving a camper van around Australia without a care in the world." One committed SKIer said: "We have worked long and hard to deserve this retirement, and I feel no guilt whatsoever in blowing the kids' inheritance."
In Spending the Kids' Inheritance and Not Feeling Guilty one mother explains that she has chosen to spend her money on travelling to visit her children who are located in different parts of the US: "We are buying memories and the money has to come from somewhere." She cites studies that "indicate that engaging in fulfilling activity rather than acquiring material possessions is what truly feeds our souls."
While presumably most people don't spend much time contemplating the prospect of coming into an inheritance, there is a subset of folk who not only ponder such an issue but take steps to secure their portion ahead of time. This was explored in The problem of parental plunder which revealed that "[c]hildren with 'early inheritance syndrome' feel a sense of entitlement to their parents' assets. They are not prepared to wait until their parents die. These impatient children seek ways for their parents to 'gift' them money, or interfere in the management of their parents' assets to protect what they see as their entitlement."
In years gone by, disinheriting, say, the black sheep of the family was the accepted way of ensuring they didn't their hands on your assets but this, of course, could always be contested in court if the affected child was unhappy. So it would seem that the foolproof way of achieving this result is to spend all your assets in your golden years so there's nothing left to be passed down. It's effective, it's crafty - and it looks like it could be a whole lot of fun, too.
Are you planning on "Spending the Kids' Inheritance"? If so, is it a deliberate plan or just the way things will probably work out? Do you feel any guilt about it?