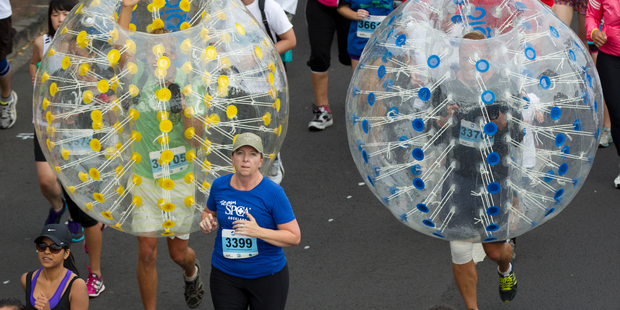 Eight-year-old Jamie Zyza had a free ride around Auckland's 8.4km Round the Bays fun run today.
He was being pulled by dad Steve Zyza in a home-made 'truck' - although brothers Taylor, 12, and Joshua, 10, took turns as well.
The Patumahoe family were helping their fellow runners stay cool by loading up the truck with water and spraying it over fellow runners.
Mr Zyza, who works for Pump, pulled the trolley while Jamie or his brothers operated the sprayer.
"It gives the boys motivation to run and they enjoy doing something silly,'' Mr Zyza said.
He said the towing wasn't too difficult - he was more concerned about the home-made truck, made largely from cardboard, lasting the distance. "It wasn't too bad - I didn't think it was going to hold together until the finish line''.
They were among almost 35,000 people taking part in today's 42nd Ports of Auckland Round the Bays, including 1180 teams. The largest, from ASB, fielded 847 entrants. Participants ran from Vector Arena on Auckland's waterfront, along Tamaki Drive to St Heliers.
Money raised from the Round the Bays supports seven charities: Radio Lollipop, Cystic Fibrosis Association Auckland branch, Crohns and Collitis New Zealand (CCNZ), Kidsline, The Hearing House, Raukatauri Music Therapy Centre and Fairfax First Books.
Putting in extra effort along the route were five volunteer firefighters from Howick, who ran wearing their 8kg uniforms.
"We were going to do it in breathing apparatus as well but then we decided that was a bit silly,'' Steve Flett said.
The five were in training for the Firefighter Sky Tower Stair Challenge, and completed the run in about 1hr 15m.
Mr Flett said they had plenty of support from other runners. "We stopped for lots of photos.''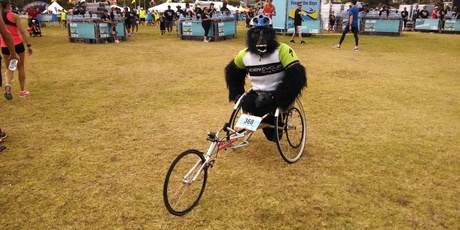 Wheelchair athlete Lee Warn also attracted attention wearing a full gorilla suit.
"It's a fun run, so I do it for fun,'' he said. "The kids laugh and smile.''
Mr Warn, 40, has completed the Round the Bays about 11 times, always in costume and twice as a gorilla.
Manu Halagigie crossed the line in about 45 minutes, helped along by his son, 7, daughter 9, and two nephews, aged 4, and 5.
Mr Halagigie, who was part of the several-hundred strong Mainfreight team, said the youngsters had no trouble keeping up a swift pace. "I was trying to keep up with them.''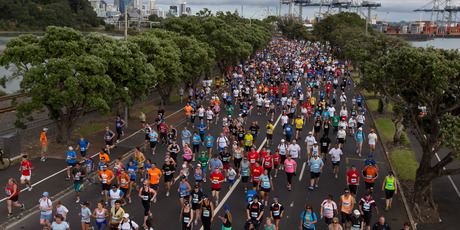 The race was won by Jono Jackson for the third consecutive year, in a time of 25m 56s.
Mr Jackson, 23, said it was his fastest finish yet. "I broke free quite early on so I probably had about 6km by myself,'' he said.
"I died in the last bit because I had no one to pace me.''
The first woman over the finish line was Lisa Robertson, in a time of 28m 38s.
Both won a $1000 prize pack from Brooks Running.
A spokeswoman from Fairfax Media, one of the sponsors of the event, said there were no issues with unregistered runners taking part.
"From launch we had clear messaging in the market encouraging people to register to run this year's Round the Bays event and while a few people may have joined in along the course, we are very happy with the result.''
There were no serious medical issues, she said. "Minor complaints included blisters and exhaustion which were handled quickly and safely by the medical staff on hand.''
* Official results:
Men:
Jono Jackson, 25m 56s
Luke Longdill, 28m 17s
Henry Wallace, 28m 30s
Women:
Lisa Robertson, 28m 38s
Holly van Dalen, 29.36
Annie Keown, 29m 44s
- APNZ