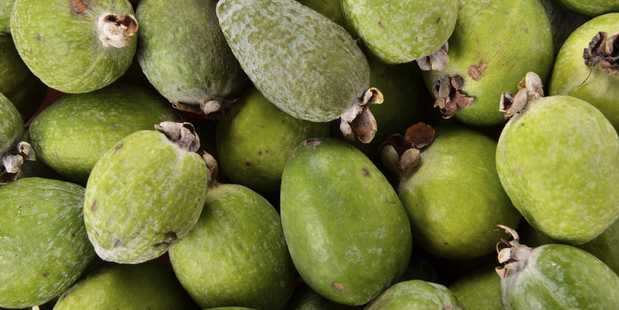 New Zealand feijoas have arrived in supermarkets up to a fortnight earlier than usual, thanks to a warm, wet summer.
The feijoa season typically runs from mid-March until June, but this year the fruit was ready late last month and is already available in supermarkets.
New Zealand Feijoa Growers Association president Tim Harper said ideal weather was behind the early abundance of the popular fruit.
"It was a combination of two things," he said. "A warm summer, even though people might not think so, and quite a bit of rain - that's brought them on quite a bit earlier, roughly two weeks earlier.
"Normally we would only see the start of fruit about now, but about a week, a week and a half ago the first fruit were dropping. Whereas about now is when the first fruit usually starts to drop.
"I think it's caught everyone a little bit by surprise how early they have come through, but supermarkets are starting to order them now so they should be available to everyone soon."
New World Victoria Park is selling the sweet fruit for $14.99/kg and Countdown Glenfield for $9.99/kg.
Of five Pak'n Save stores phoned by the Herald, none had the fruit in stock.
This week it was revealed that there were shortages of bananas in supermarkets because of a mechanical fault with a ship as well as a shortage of prunes affected by a drought in California.
Fruit deliveries

Feijoas: Have come into season two weeks early thanks to a warm and rainy summer.

Bananas: A shipment of 30 per cent of the country's supply was delayed because of a mechanical shipping issue.

Prunes: California growers have warned of a global shortage as crops are replaced by higher-yield produce.