The first weekend of autumn and Auckland is buzzing. Here's what has made it on to our agenda.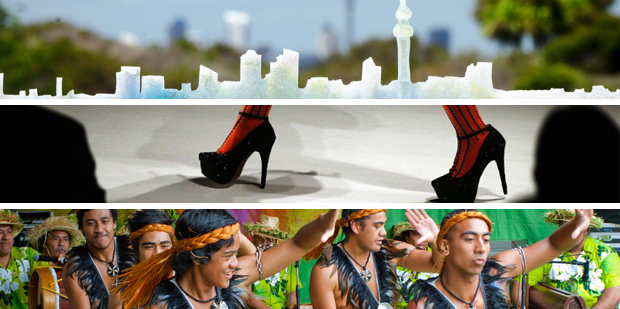 New Zealand's Longest Catwalk
The climax of Heart of the City's 10 Days of Fashion in the City is the mega catwalk stretching 125 meters down the middle of Queen Street. Check out 40 long-legged models, showing over 70 outfits between Wyndham and Shortland Streets. There'll be music and a massive screen at the Shortland Street end. Then pop down to the Silos for the pop up Fashion Museum show.
Details: Saturday, kick off with pre-show entertainment at 12pm and will wrap up about 1.30pm. Website here.
Harbourview Sculpture Trail
Art installations dotted around the Te Atatu Peninsula make up the stunning Harbourview Sculpture Trail. Opening to the public on Saturday, the trail features 52 pieces amongst the salt marshes, some available for purchase.
The exhibit includes onsite activities for kids, curated tours and weekend bike hire.
Details: Opening on Saturday and running until March 30 from 10am until 6pm. Website here.
Pasifika
Pasifika is our biggest celebration of our Pacific Island roots - with 10 island villages, including our own Aotearoa. This year Hawaii is showing for the first time, with hula, food and gorgeous crafts, even a waka on the lake. Pick up a genuine Hawaiian shirt, eat your way from island to island and catch some terrific shows from 1000 performers on 11 stages, 200 stalls selling crafts and over 150 different food dishes for two days in one place.
Details: Saturday 10am to 5pm , Sunday 10am to 4pm (interdenominational church service from 8.45am - 9.50am). Website here.
Diamond Day
It's the last chance for the guys and girls to frock up at the final race of Auckland Cup Week at Ellerslie. Diamond Day racing has one last fashion in the field event - lucky ladies are picked from the crowd to draw a horse in the I $200,000 Haunui Farm Diamond Stakes (race run at 3.46pm), with the lucky winner taking home Ellerslie Jewellers & Engravers prize package valued at over $10,000.

Details: Saturday, gates open at 11am. Book tickets online.
Round the Bays
The fit, strong and friendly runners will lace up their trainers for Auckland's biggest and oldest race. Up to 40,000 folks will tackle the 8.4km course from Quay St to the waterfront at St Heliers Bay, then join the city's biggest BBQ, raising funds for charity and enjoying the perfect autumn weather.
Details: Sunday, race starts at 9.30am. Entries close on Saturday, no entries will be taken on event day. Website here.
This weekend's weather:
Follow Life & Style Online on Twitter here. Follow Life & Style Editor Nicky Park on Twitter and Instagram. Follow Weekend Life Editor Catherine Smith on Twitter and Instagram.
- www.nzherald.co.nz