It's all very well being supportive, but how can the husband be a writer if his new toy has lopped off a hand?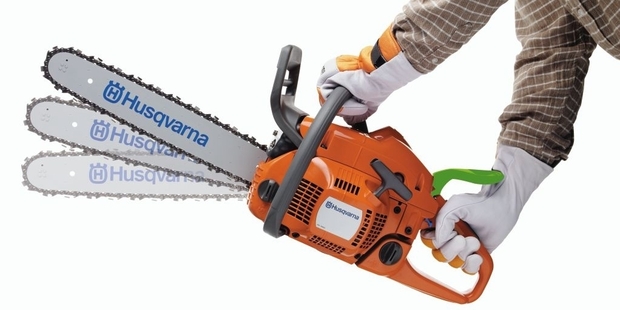 With less than two months left to go in my supportive wife challenge, my resolve to support my husband in everything is quickly disappearing.
We had a disagreement this week which lasted several days and resulted in a statement I have not yet heard my husband utter during this challenge: "I thought you were being a supportive wife this year?"
Until now, he's been clever enough not to pull that card, but in this instance he obviously felt he was losing and had to risk it.
Because he really wants to play with his chainsaw.
When we bought our property up north, it became evident within days of taking possession that there were a lot of dead trees lying around the place, and some others which had to be chopped down.
We have a log fire, so this would be good firewood, we reasoned.
"Let's get a chainsaw!" he said as we were at the mega store buying a harmless little weed-eater for me.
"I can chop up all that firewood; it'll be fun," he insisted.
I know nothing about chainsaws, have never used one or seen one used. So we bought it.
Two weeks later, it was still sitting in its box because it had to be assembled. I'm sure in times gone by you rocked up to buy a chainsaw and they handed one over to you all ready to go. My weed-eater was ready to go because I bought the display one, insisting that there were no others available to the checkout operator.
Eventually I asked "my man up north" to put it together for me.
I have been watching a lot of Downton Abbey lately and reading novels by the recently deceased writer Elizabeth Jane Howard, who wrote the Cazalet Chronicles which are very Upstairs Downstairs but set in the country. And I might be having a bit of a love affair with the thought of country piles with men who look after them. Salt-of-the-earth types with names like Smith and Baxter who tend the roses which the Lady picks daily.
My man has a perfectly good name, but much to my husband's annoyance I call him "my man up north", because he does manly things for me like mow the lawns or scale the perilous rooftop to retrieve my dog's toy from the gutter, and gives me advice on lots of rural type things.
He's very fond of showing me his scarred old hands and saying, "these are my tools, these are my life", while I admire them and nod vigorously in agreement.
He assembled our chainsaw and then came to me, cap in hand (not really but he would have if we were in the 1920s) and begged me not to use the thing until he had given me some safety tips.
He then launched into a series of things that can go wrong when a chainsaw is in the wrong set of tools, I mean hands.
I pictured my husband doing every one of those things and possibly losing a hand in the process.
"I'm going to ask you something," I said to him later. "And I need you to say 'yes'."
There was a long pause.
"Well, that really depends ... "
"We are writers, we use our hands, right?"
"Yes."
"So if we lost them we'd be pretty stuffed."
"Not necessarily, I could probably use my nose if push came to shove."
"So I'm going to ask you never to use that chainsaw and we'll pay 'my man up north' to chop all the wood.
"Nonsense," he scoffed. "I'll have you know I used a chainsaw a lot before I met you, and I mean to use one now."
Apparently he chopped a few shrubs down around a Ponsonby house he once lived in. I have no evidence of this and I remain sceptical. But he will not budge, and thus I am being unsupportive.
I'm not looking forward to watching him write with his nose, but if that's the price to pay for being a supportive wife, so be it.