Have you enjoyed an icy cold Estrella Damm this summer? If so, you're up with the play because the beer of Barcelona has only just become readily available here in New Zealand. To celebrate, Bite ran a tapas competition and asked the bars and restaurants who serve it to share with us their favourite Estrella tapa match. They narrowed it down a very fine field of finalists and we will share one of their top five each day online, along with a gallery of other contenders.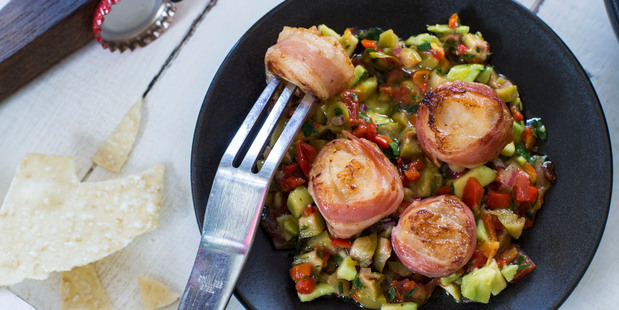 Apartment Bar
If you visit The Apartment Bar in Central Wellington, you can sample this entry for yourself. Created by chefs Jonathan Rea and Caleb Kloeg, it is now on the menu. The Apartment Bar is as you imagine it: a space set up as separate rooms in a New York-style loft apartment. It serves modern New Zealand, bistro, café and counter food.
Scallops wrapped in pancetta with green olive and red pepper salsa
Serves 4
• 16 scallops
• 8 slices pancetta, 20cm in length
• 25-30g melted butter
• Green olive and red pepper salsa
• 30g pitted green olives
• 60g roasted red peppers
• ½ avocado
• ½ small red onion
• ½ tomato, quartered and seeded
• Zest 1 lemon
• 2 Tbsp extra virgin olive oil
• 1 Tbsp flat leaf parsley, finely chopped
• 1 Tbsp lemon juice


1. Remove the roe and any connective tissue from the scallops.
2. Cut the pancetta in half to make 10cm-long strips, then carefully but firmly wrap each around a scallop leaving the top and bottom exposed. Brush the tops and bottoms of the scallops with the melted butter and then season with flaky sea salt. Let the wrapped scallops come to room temperature for 15 minutes.
3. While the scallops are warming, dice all the salsa ingredients. They should be diced slightly smaller than 1cm, the onion even finer. Add the diced ingredients to a bowl but do not stir to avoid breaking them up.
4. Zest the lemon over the bowl to catch the citrus oils then add the olive oil, parsley and lemon juice to the bowl and some flaky sea salt. Mix through gently, cover with plastic film and keep to one side to infuse at room temperature.
5. Heat a frying pan to medium heat, add a little butter and when hot add the scallops and cook on each side for 2 minutes before removing and allowing to rest.
6. Divide the salsa between 4 plates or scallop shells if you have them, place the scallops on top of the salsa and serve with flat bread.
The judges say: The addition of the red peppers and olives in the salsa created a real zing that worked well with the scallops. Estrella Dramm loves seafood.
Check out some of the other Estrella Damm tapas competion competitors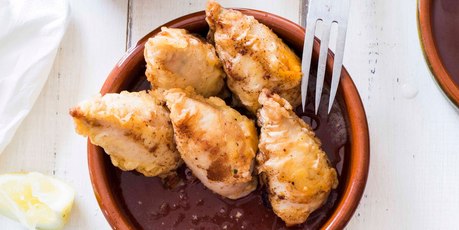 Note: Part of the judging process was to choose recipes that were suitable to the home cook. The recipes from our 12 semi-finalists have all been tested and some slightly adapted to suit. See all 12 recipes on foodhub.co.nz

For more about Estrella Damm and tapas visit their website here.