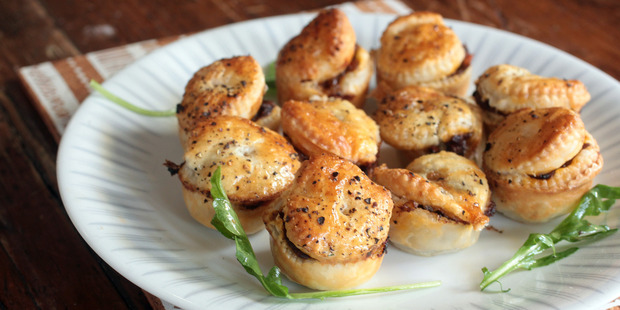 Mini muffin tins are a great asset when it comes to pass-around food. Cook a fritter mix in them to give even-sized serves. These bite-sized pies are always a hit.
Fill them with Thai chicken curry, a beef and mushroom mix, bacon and egg or spinach and feta. Whichever filling you choose, you are only going to need a teaspoon or so for
each pie so don't go overboard on your preparation.
Before filling the pies, dice the pie mix quite finely. It should be reasonably moist or it will feel like you're eating a mouthful of pastry.
There's no recipe for fillings here. They're your choice to make. If you are short of time,
buy a takeaway butter chicken or Thai curry to use.
Makes 24 pies
• 2 cups cooked pie filling, chopped finely
• 4 sheets bought puff pastry


1. Preheat the oven to 180C. Spray your muffin tins with oil to grease them well.
2. Cut the pastry into a circles big enough to fill each indentation and sit just above the rim of the tray. Cut slightly smaller pastry circles for
the tops.
3. Gently fit the pastry into the muffin tins. Fill each with a good teaspoon of filling and sit the pastry lids on top. Brush with a little egg wash.
4. Place in the middle of the oven. These will take 15 minutes or so to cook. Your filling is already cooked so the pies are done once the pastry has coloured and puffed.