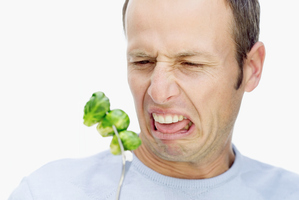 Almost three quarters of of New Zealanders don't eat the recommended daily amount of fruits and vegetables, new figures show.
But Kiwis are eating more healthily than Australians, according to the latest data from Roy Morgan Research.
Around one in every three New Zealand women, and one in five men, eat three or more servings of vegetables and two or more serves of fruit each day, the amount recommended by the Ministry of Health and promoted by the '5+ A Day' campaign since 2007.
Over half of Kiwis succeed with the two or more fruits, but vegetables are clearly more of a struggle with just 36 per cent eating 3+ serves a day.
However, another 27 per cent eat two serves of vegetables .
Men especially need to boost up their vegetable intake, with women over half more likely to meet the 3+ target.
"Although the vast majority of us eat at least some fruit and vegetables every day, only around one in four New Zealanders manage to meet the Ministry of Health's intake recommendations," said Pip Elliott, General Manager, Roy Morgan Research NZ.
"Eating the right amount of healthy produce need not be a chore.
"People who enjoy food from all over the world, who like to try new foods, or who find the time and enjoy cooking are all more likely than average to eat 3+ serves of veggies and 2+ of fruit each day."
Just 6 per cent of New Zealanders say they eat less than one serve of vegetables (including none), while 14 per cent eat less than one serve of fruit or none in a day.
Across the Tasman, average fruit and vegetable intake is well behind New Zealand, with just one in five Australians eating the right amount of both.
Around 70 per cent of Australians don't eat enough vegetables, and 58 per cent don't eat enough fruit.
Roy Morgan polled 6142 New Zealanders and 8985 Australians aged 14 and over between July and December last year.
- APNZ