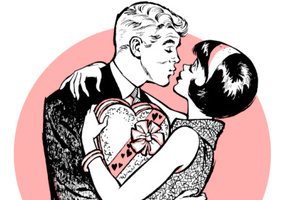 New Zealand women are more likely than men to get the Valentine's Day gift they want tomorrow - but more than a third might not get anything at all, a survey reveals.
A quarter of women who took part in the Colmar Brunton survey of 1000 people said they wanted jewellery as their top choice of gift, followed by flowers on 16 per cent.
Their partners seem to be listening, with flowers (18 per cent) and jewellery (8 per cent) ranked as the top gifts for men to buy.
Men themselves want travel or a holiday (10 per cent) followed by love and affection (9 per cent) and a new car (8 per cent).
But not everybody will be happy tomorrow, with 41 per cent of respondents saying they won't spend a cent on Valentine's Day.
Only 15 per cent of respondents said they would splash out more than $100.
Those celebrating Valentine's Day would prefer to mark the occasion with a romantic restaurant dinner (23 per cent), a casual dinner out (19 per cent), a homemade dinner (14 per cent) or a night in a hotel suite (14 per cent).
Almost 60 per cent of men expected to foot the bill while 46 per cent of women expected them to do so.
However, 40 per cent of women favoured splitting the bill down the middle, compared with 27 per cent of men.
Top date locations included the beach (17 per cent) followed by Queenstown, the Bay of Islands, and outdoor areas like parks, forests, the bush or mountains.
A night in could be just as romantic, though, with a quarter of respondents saying they got engaged at home.
That compared with 17 per cent who got engaged overseas, 6 per cent at the beach and 4 per cent at a restaurant.
Will you be celebrating Valentine's Day? How? Or will you be skipping the whole lovefest?
- APNZ