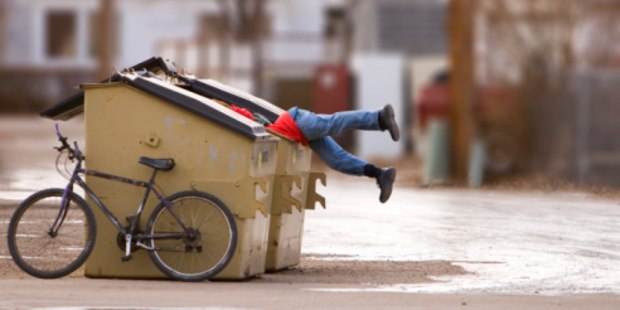 In 'I must feed my kids', the Wairarapa Times-Age reported about a local woman who is forced to forage for food discarded by supermarkets in order to feed her family. In debt - and having lost her house, business and husband - she performs this so-called "dumpster diving" at night, once her children are in bed. "I can't see my kids go hungry, so it's a matter of beg, steal or borrow," she said.
While this woman may have been ferreting through bins through sheer necessity, as reported in Chef's 'dumpster dive' nets feast an Auckland man did it for PR purposes. He served 32 people a "feast" created from binned ingredients. Evidently, "the chef pulled wrapped bread baked that morning, fresh produce, chocolate and even wasted bottles of champagne from the dumpsters".
This exercise in extreme recycling was devised to "highlight the amount of food binned by retailers and restaurants".
Dumpster diving is an integral part of the freegan movement which is comprised of followers intent on extricating themselves from the prevailing capitalist "economic system where the profit motive has eclipsed ethical considerations and where massively complex systems of productions ensure that all the products we buy will have detrimental impacts." In short: they want to get stuff for free.
So the reasons a person may be introduced to dumpster diving are many and diverse. It might be due to poverty or it could be a PR stunt or for political purposes. But the question remains: is it an acceptable practice? The Guardian article entitled Skipping: is there anything wrong with taking the food that supermarkets throw away?, which ponders this very subject, says, "Three men will appear in court for allegedly 'dumpster diving' ... But isn't the crime the vast amount of food being put into skips in the first place?"
These men were arrested in London and "charged under the 1824 Vagrancy Act" for allegedly "taking some tomatoes, mushrooms, cheese and cakes" from bins behind a supermarket. One reader commented: "This is Dickensian law at its worst. The authorities would rather see people starve than use up otherwise wasted resources." Another wrote: "Of course the state must prosecute ... Can't have the peasantry getting anything for free." Evidently criticism of this nature resulted in a decision by authorities to not proceed with a prosecution.
The finer points of this practice are revealed in The Art And Etiquette of Dumpster Diving. They include: "Don't make a mess," "Don't risk eating something that's gone bad" and advice on how to access a locked dumpster. Elsewhere, The Etiquette of Dumpster Diving has more guidelines: "Forage under cover of night," "Share your spoils" and avoid restaurant dumpsters (because all the waste is often mixed into a single unappetising rubbish bag).

According to How to Dumpster Dive, Eat Free & Fight Waste, "the United States throws away a staggering 40% of the food it produces every year". This blog says: "Dumpster diving is an easy and often fun way to do your grocery shopping" and advises new recruits to: "Dig through the bags with your gloves, and pull things out that feel promising."
In Dumpster dinner, a spokesman from supermarket operator Progressive Enterprises said that it is "not a major problem but is a dangerous one as food was thrown into bins for safety reasons" while a manager at Wairarapa Advocacy Service said at least half of his 500 clients "have admitted to stealing food or taking it from bins outside shops".
While dumpster diving is not covered specifically by New Zealand legislation, it's understood that rubbish and waste remain the property of the disposer until it has been collected by a designated operator. So the removal of waste from a bin could technically be viewed as theft, which seems a little harsh - especially if you're only doing it to keep your children from starving.
What's your view on dumpster diving? Have you tried it? Is dumpster diving itself the main problem or is it the extreme level of wasted food that should be addressed?