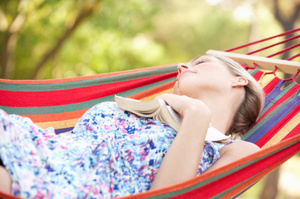 Over the last couple of months we've been talking a lot about eating. Today, I want to start a new mini-series about another vital component of a healthy body and balanced, happy life. It's something that has become increasingly dismissed in importance, but without it the consequences for mental, emotional, spiritual and physical health are enormous.
Practicing it has become increasingly sidelined and dismissed in importance and yet it can make an incredible difference to our wellbeing and energy levels. It's something our bodies are crying out for but we are becoming culturally programmed to ignore those essential messages. Plus it's free, it's easy, and it can transform your sense of peace and wellbeing.
What is this mysterious secret? What could it be that we are repeatedly overlooking? What is this thing we are missing? Rest. That's what.
Yup. That simple. Rest. Our body is programmed to need time to rest and recharge. To integrate memories and stuff we have learned. To repair muscles. To detoxify. To ready and refocus ourselves for the next thing.
Life is not meant to be a marathon - a long grind or slog of getting from one thing to the next. Really, it's not. Actually we have minds and bodies that are built for life as a series of short intense sprints, with periods of recovery in-between.
It's a completely different way to look at how you drive yourself. Are you dragging yourself through life like an endurance event, or is it a series of intense, consciously chosen activities with adequate time to rest and recharge before the next challenge?
There's an interesting principle I have observed with helping many clients create a life of centered work-life balance: the extent to which you think you do not have time to rest is directly proportional to how much you actually need to rest. The more you are resisting forms of rest, the more you actually need it. The more you think you are too busy, and that you don't have time for it, the more you actually need to take a serious look at the amount of rest and play in your life.
I find it helpful to look at different types of rest and look at incorporating them into your regular weekly routine.
We are going to look at the following five essential restorative practices over the coming weeks:
1. Passive rest AKA chilling
2. Active rest AKA play
3. Flight mode rest
4. Sleep
5. Body rhythms
So, prepare to create some practices that will turn life from a grind into a joy. Grab your journal and get ready to dive in.
Louise is a life coach, author and corporate escapee. Visit louisethompson.com for more.