Each week Rachel Grunwell will try out a new form of exercise to bring you the lowdown.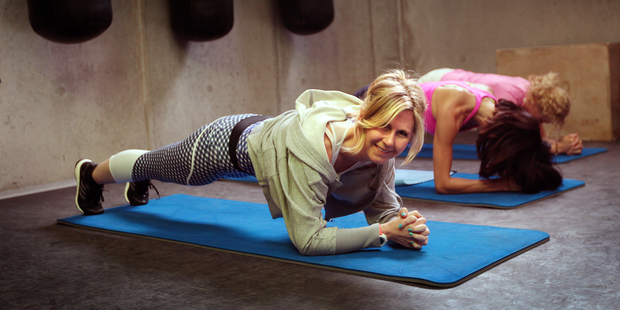 Just Abs
What is it? A 20-minute workout that targets the core.
What's needed? Workout gear, towel, water.
The experience: If you exercise at a gym for over 30 minutes a session you could be "wasting your time". So says Monique Rana, co-founder of BodyTech gym in Grafton. She follows research by the likes of Dr Wayne Westcott, whose studies show that quick, high-intensity training can be highly effective. Unless you're chasing the look of a younger Arnold Schwarzenegger, that is, in which case, go right ahead and kill yourself at the gym for hours and stop reading this.
I have a life and the lure of working out for short periods appeals. When I spied the 20-minute workout at this gym, I thought "yippee", I can get in, get out and feel great.
Monique says the gym is focused on efficient, high-intensity training workouts three times weekly for most people. To ensure clients make every minute count, there can be about four to six clients per trainer who closely supervises and motivates people to get results. So it's similar to having a personal trainer, she says. The best perk of this, I reckon, is that you don't have to learn how to suss all that equipment because there's always a trainer adjusting the weights for you. This means you are just here to lift those weights. So, no time for slacking or gossiping.
By the way, this place is high tech and I love all the little touches, like Elizabeth Arden perfume for him and her at reception for use and Schwarzkopf Professional hair products in the showers, quality stuff that doesn't smell like paint-stripper.
There are large, easy-to-use coded lockers so no one can be shifty with your stuff. And I really want to move into this place when I spot the spa, sauna and pool. I wonder if anyone will notice if I slip in here with a cocktail and lounge about for a while?
However, lounging about, with my paws attached to a cocktail, is for Sex and the City -style columnists, not this hard-working writer.
So I try the Just Abs class. In a glass-walled (fish-tank-like) room, I do eight exercises which have me on my tummy, back, sides and all fours. I target the obliques, transverse abdominis, rectus abdominis and hip flexors. I worry a trainer may flog my body for 20 minutes but, instead, personal trainer Amriesh Lala takes our class (four people this day) for a controlled, properly carried out workout. I leave not sweat-soaked but a little sore around the middle. I can't believe I'm walking out of the gym in such a short time - you could fit this into a lunchbreak. A day later I feel like my middle has just mixed concrete, which is very good for defining the waistline. You know, the look sported in The New Zealand Herald this week of beefcake All Blacks showing off their six-packs for Jockey. Now I can tell you how to get your own six-pack, but not how to snare one of those particular six-packs. That's the job of the Sex and the City-type columnists.
How much? One year membership is $109 monthly. You pay a one-off $99 fee to be assessed by a personal trainer; includes a body composition test.
Worth it? Effective workout, fabulous place. Clients from 16 to 95. The latter is lovely Olive who still pours tea at a church for mums and bubs that I take my little guy to. She's my fitness inspiration.
Try it: BodyTech, 8 Nugent St, Grafton, Auckland, www.bodytech.co.nz
Rating: 9.5/10