Danielle Wright has a close encounter with the South American cotton-top tamarin monkeys at the Auckland Zoo.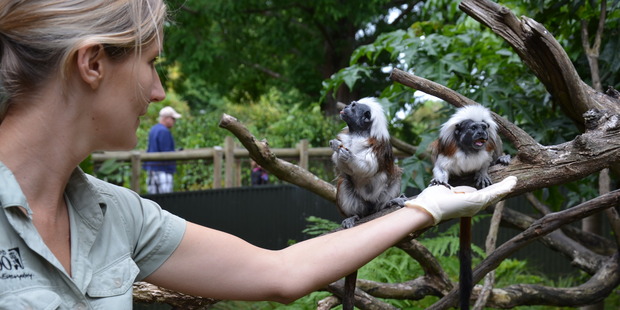 Cotton-top tamarin monkeys have been called "punk rock primates". As soon as we enter their enclosure at the Auckland Zoo it's easy to see why. In seconds, four furry-headed fellas shuffle at top speed down branches like a tiny gang of monkey hoodlums with their white mohawks - reminiscent of Tina Turner in Mad Max.
Moments before primate keeper Sara Millband gave us gloves to wear, saying that people can pick up diseases from the monkeys, and they from us, because we are so closely related.
My 8-year-old, Henry, has come along and almost runs in the opposite direction when Sara shows him the food we'll be offering the monkeys: live mealworms.
"No way, they smell disgusting," he says when Sara hands him a couple of the wriggling worms to hold. He's brave and gives it a go and once he has fed them he's thrilled and keeps coming back for more. The monkeys pick the worms up with pincer grips and long nails.
We're experiencing one part of the Zoo's Primate Experience, which is a behind-the-scenes tour where you meet and feed the cotton-top tamarins, the Madagascan ring-tailed lemurs and the spider monkeys. You'll also get to see a working "animal kitchen".
I can't comment on the ring-tailed lemurs or the spider monkeys, but our cotton-top tamarin friends are very gentle. I notice one holding on to Henry's hand to balance while reaching down for the worms. They look us in the eye and poke out their tongues at us cheekily.
"They all have different facial features and personalities," says Sara, introducing us to Yari and Garzon, both aged about 13 and the dominant pair in the group.
The zoo runs a non-breeding programme for these animals, who are on the top 25 endangered primates list. Sara tells us many were taken from their habitats in South America for biomedical research in the late 1960s and 70s to test cancer treatments. Very few are left in the wild.
Auckland Zoo's enclosure aims to be as natural as possible for the monkeys, with lots of enrichment to stimulate the animals - for example, hanging baskets with dead leaves so they have to forage for the insects or fruit ropes they need to pull up to get to the food. Sara tells us the monkeys rely on smell so sometimes the keepers will spray perfume around and the monkeys will need to re-scent the area and mark it again.
They're not noisy. Sara mentions a study published last year in the journal Zoo Biology that found that their warning call dropped to a whisper when people came near.
We run out of mealworms and it's time to give the monkeys privacy. After his initial reluctance, Henry is full of questions for Sara about his new friends.
"Kids get more excited about nature when they get up close to it," Sara says. "It awakens their passion for wildlife."
I've always found something unsettling about the concept of a zoo, but the value of introducing children to animals, especially endangered animals, is without question. I don't want my children to have to explain to their kids why these petite punk rockers went out of fashion - for good.


MONKEY BUSINESS
The Auckland Zoo is celebrating monkeys of the world on February 15 and 16, from 9.30am to 5.30pm.
Pick up monkey activity sheets on arrival, join spider monkey and lemur encounters and a special monkey movement trail in Jamuna Plaza (in front of the rainforest), monkey-themed storytimes (at 10.30am) and face-painting for a gold coin donation.
Be in to win a behind-the-scenes primate experience for two people, valued at $150 a person (minimum age is 8).
If you don't win and would like to book the experience for your child, remember that a paying adult must accompany any child under 15.
Normal Zoo admission prices apply over monkey business weekend and Friends of the Zoo are free of charge.