Q: My partner's family creates so much trouble for us. His mum is really overbearing and keeps telling us things we have bought are a waste of money or ugly, and that our wedding plans aren't right. We fight about this a lot. My husband knows where I'm coming from and his mum annoys him too, but he gets really defensive anyway, and won't stand up for me. What should I do? I really love him but I'm feeling really resentful.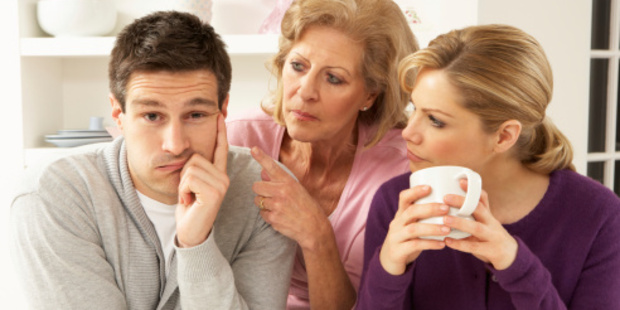 First of all, rest assured that you're not alone. This is extremely common, especially between a woman and her mother-in-law.
Secondly, I'm not surprised that you feel resentful. Your boyfriend clearly feels torn (and I feel for him for that reason), but he should really be making more of an effort to stand up for you regardless.
Got a broken heart, relationship niggle, infuriating family member, or anything in between? Email your questions here and check back next Friday to hear Jill's wisdom.
That said, it's not as easy as simply instructing him to tell his mother to back off. If it were, he probably would have done so already.
To start with, tell him how much you need his loyalty when it comes to his mother's interference - how important it is for you to feel 'stood up' for. That you love his mother, but her constant comments are upsetting you. (Don't forget to also explain that you understand it's hard for him.
Not only is it true, he'll feel less under attack.)
Next, suggest super-simple phrases to use with her that he can fall back on."Thanks for your concerns Mum, but... we are going to have a professional photographer" or "I know how much you want us to make the right choices but Sophie and I are confident about our own ideas".
She can hardly argue with that. It just takes a bit of firmness.
To make it a bit softer, why not ask his mother what she thinks about something (less important to you) every so often. That way she'll feel involved and heard. You might find she's simply feeling useless or left out. Try to remember she's human too, and her busybodyness is coming from somewhere that's probably not terrible happy.
It's really good that you're tackling this issue now. These patterns of family life need to be made really clear, and the earlier the better. Otherwise patterns develop and become entrenched. A little effort and clear communication now could save years of potential mother-in-law stress to come.
* For personal assistance from Jill Goldson visit The Family Matters website here.