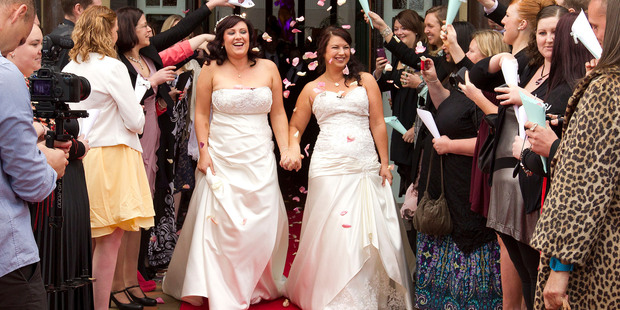 As the number of same-sex marriages continues to flourish following last year's law reform, only a handful of couples are opting for the other legally recognised form of partnership, civil unions.
But one of those responsible for legalising civil unions in 2005, Labour Party general secretary Tim Barnett, believes they still have an important place in society.
According to provisional Statistics New Zealand figures released today, there were just eight civil unions in the December quarter last year and 23 the previous quarter - the lowest of any quarter since records began in 2005.
This corresponds with a spike in the number of same-sex couples marrying, with 355 tying the knot between August and December.
Mr Barnett, who championed the civil union legislation, said he was quite happy in his civil union relationship with his partner of 13 years.
"We've had a couple of conversations [about marriage] but at the moment we're happy with the status we've got. With a civil union, we know we've got the legal protection. The issue left is the symbolism of marriage," he said.
"I think I was probably one of those people who always had a tiny bit of an aversion to the concept of marriage, to the label of marriage."
Mr Barnett, who was an MP for Christchurch Central at the time of the Civil Union Act, said he was surprised by how quickly public and political opinion had shifted in favour same-sex marriage.
"At the time we went through the process of thinking civil unions are something that are open to everyone and may be preferable to marriage. Indeed, a reasonably high proportion of civil unions were of heterosexual couples, often people hitching up for a second time who didn't like the concept of going for marriage again."
Fran Wolber and L-J Baker were the first same-sex Palmerston North couple to get a civil union and then proposed to one another the minute Parliament voted in favour of legalising same-sex marriage last year.
"Civil union has always been second best for us," Dr Wolber said. "It doesn't have the historical connotations of marriage, it does not have the societal acceptance and I think most couples like myself and my wife originally got the civil union because it was the only thing we had available to us.
"Marriage means a whole lot more than a civil union. You say 'my partner' and that can be a business partner, that can be a live-in lover, that can be a boyfriend that could be anything. But if you say 'my wife' everybody knows exactly what that means and it is accepted as an important right in our society.
"I would imagine that there's always going to be a small proportion of couples who prefer the civil union for personal or anti-religions reasons or whatever. But I think it's probably just going to be a handful of couples each year."
Queenstown marriage celebrant Phillipa Cook said she'd had a busy few months officiating same-sex weddings, the majority being for Australian couples visiting New Zealand to tie the knot.
She had not officiated a civil union since August.
There were 355 same-sex marriages between August and December last year - 190 involving female couples.
In total there were 21,652 marriages in New Zealand last year compared to 22,943 in 2012. The total has fallen almost 8 per cent since 2006 when there were 23,444 weddings.
- APNZ