Address:
141 Queen Street, Northcote Point
Phone:
(09) 480 9463
Rating out of 10:
Food: 7, Service: 9, Value: 7, Ambience: 8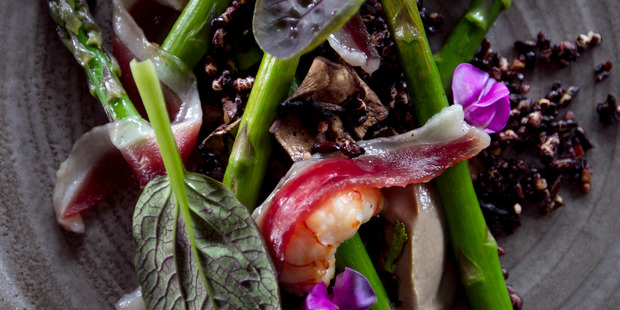 Regulars of the Bridgeway cinema and others who frequent this once-sleepy Auckland suburb, just over the bridge, have known about the Stafford Road Wine Bar for a while.
But it was news to me. Last time I looked it was a wine shop, then a wine bar. Now it's a highly rated restaurant too and a great alternative before or after the movies - or just for itself.
We arrived early, around quarter past six, to make sure of a table. Annoyingly for us diners, but better for business, you can't book.
But they do look after you beautifully while you wait and there's plenty of wine to work on. Even in mid-January when Auckland empties out, the place was already buzzing with what felt like a crowd of chic after-work regulars and even a bride's night out group.
It's a cool space with its high bar, peeled-back wallpaper showing the old bricks beneath, friendly buzz and character that means you could arrive here on your own for a drink and feel perfectly in place.
The service was excellent from the start. Yes, we could have a table inside, in around 20 minutes. In the meantime would we care to settle down with our drinks outside? We did, and although the gas lamps kept us warm, our waiter brought over a pile of snuggly blankets just in case.
All of which gave us plenty of time to study Stafford Road's short (abbreviated) summer holiday menu. It's divided into small plates to share with a couple of larger plates plus, the night we visited, just one dessert.
We started with drinks of course: a long, single shot, icy gin and tonic, with a decent wedge of lime for me (a bargain at $5) and the driest of their Hawkes Bay chardonnays for Brian. Our waiter obviously knew the list intimately. Both were exactly what we wanted.
By the time the others arrived we'd decided to start with four plates to share: the chicken liver parfait, brioche toastie, goat's cheese croquetas and boned chicken wings.
All four were great, if on the small side. The creamy parfait arrived with a chunk of delicious hot ciabatta, but cut into only three slices, meaning one of us had to have the undercrust.
The croquetas were quite small - about the size of walnuts - and though they were delicious, hardly filling. Only the brioche with ham hock and cheese - which turned out to be mini toasted sandwiches - were reasonably substantial, but even so they were only quarter the size of the usual sandwich loaf of bread.
About then I started eyeing the shoestring fries with aioli, which looked as though they'd fill us better but was shouted down by my calorie-conscious friends. Instead we munched on our pretty plate of cured meats. They looked great and tasted delicious, but this time there was no bread or even a biscuit to soak up the wine.
So on to the bigger dishes. Again we wanted to share so we ordered a plate of the scampi with house-cured duck prosciutto, shitake mushrooms and asparagus, which was the high point of the night. And this despite the fact that each meal contained only two scampi, the size of medium prawns.
But we all know scampi are practically impossible to buy and eye-wateringly expensive, so after we carefully cut our two in half and experienced that fabulous better-than-crayfish taste and that impossibly tender texture, all was forgiven. The mushrooms were meaty and delicious, the prosciutto tasty, there were at least six asparagus spears and the combined flavours were truly exceptional. I immediately ordered a second plate.
Last came the wild venison, which was also excellent, if tiny. The piece of loin was small and it took a steady hand to cut it into four slim mouthfuls, but once again it was expertly cooked, tender and delicious and the accompanying vegetables were good too.
While the rest of us were putting on a brave face, and Sir Bob (who was recognised at least twice) was rhapsodising about the service and ambience, Barb was her usual honest self:
"I feel as though I've been eating scraps all night."
Even the one dessert on offer, the strawberry and watermelon rose sorbet with whipped marshmallow and milk biscuit, did nothing to change her summation. Sure, the dessert was a creative concoction of textures and flavours, but ultimately unsubstantial.
To be fair, we had descended on this small wine bar during January when many local restaurants are closed. It was an even shorter menu than usual, they weren't expecting a run on the kitchen - and they sure weren't expecting a reviewer. By the time we finished, the cupboard was almost bare.