Auckland will become a city of even more sails as boaties take to the sea this anniversary weekend. By Joanna Mathers.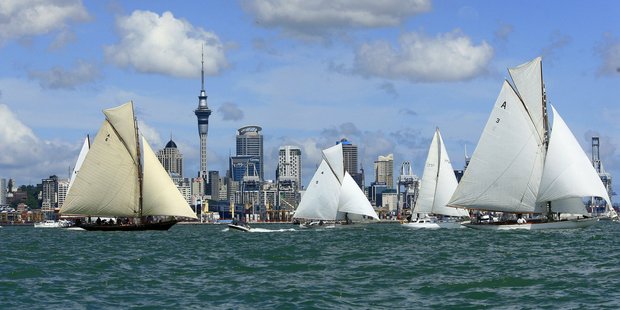 As inhabitants of an island nation, it makes sense New Zealanders are a bit obsessed by the sea. After all, we have more than 15,000km of coastline at our disposal and this coastline is all the more magical when explored from the sea. Many will have childhood memories of mucking about in boats. Summers spent sailing or puttering around in poky dinghies, warm days diving off the side of yachts or discovering hidden coves in the back of old runabouts.
Auckland Anniversary Weekend and its regatta provides keen boaties with an excellent excuse to take to the water. Set up to commemorate the arrival of Lieutenant-Governor William Hobson in 1840, it is now recognised as one of the largest one-day regattas in the world.
Aucklanders flock to spots such as North Head to watch crews battle it out on the Harbour and boats of all shapes and sizes take part in races or act as floating spectator stands for friends and family.
A love of boats, it seems, isn't conditional on age or gender. On the eve of this year's regatta, Living catches up with four keen boaties and finds out just what it is that they love so much about being out on the sea.
The fisherwoman
Nicky Sinden isn't your stereotypical salty seadog. She's young (29), she's attractive, she's blonde ... and she's mad about fishing. Sinden was brought up on and around the sea. Her summers were spent on a family-owned island in Bay of Plenty where she swam and boated but her favourite memories are of days spent fishing with her dad and uncle.
"It's when I fell in love with fishing."
This love lingered past childhood. In fact, so strong was her passion for the sea and all things fishing-related, she decided to save up for her own boat when in her early 20s. "I bought a boat off a friend of my dad's about three years ago," she says. "It was a really retro boat; an old Bonita. But it kept breaking down."
She upgraded to a Buchaneer 524 a few years later, but recently she has been given the opportunity to get behind the wheel of a Stabicraft 2050 supercab, with a 150HP four-stroke engine. (Sinden says it's important to give details on the engine. "People who are into boats will want to know," she explains.)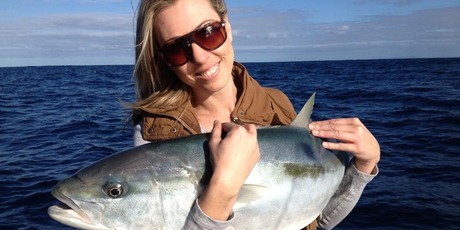 Sinden is about to star in her own fishing show on Prime which will be on our screens soon. Called ADOS Addicted to Fishing, the show will take viewers on a journey around New Zealand, chatting with fishing types and helping people discover all there is to know about fishing. She's relishing being in charge of such a brute. It's called The Kitchen - "Cos a woman's place is in the kitchen, and my place is in a boat!"
Sinden is not alone when it comes to be a fishing-mad female. She introduced one of her mates to fishing and the friend loved fishing for kingfish so much she changed her middle name to "Kingfish" by deed poll. "We all call her that now. She's going to be appearing on the show."
The family man
It's about fun, it's about freedom. It's about the moments when your kids' faces light up with joy. Auckland-based designer Gary Tucker has owned boats for more than 15 years. The dad to Lydia, 9, and Penelope, 6, bought his first boat around 1998, a little fizz boat that he used for fishing and other on-sea escapades.
His current boat is a Surtees 6.1 aluminum, which he bought with his father-in-law, Blair Dempsey. Named Bream, the boat is stored at a family pad in Whangarei Heads, where it's used for fishing and family adventures. One of the Tucker family's favourite spots to visit is the pretty, secluded Smuggler's Cove at Bream Head, after which the boat is named.
The family trailer the boat to Auckland occasionally and, while there, they love to explore the Hauraki Gulf, as far out as Mokohinau Islands.
Tucker says the worst thing about boat ownership is it can be "a bottomless money pit".
But the positives make up for it. "Boating is about freedom and adventure. We can have great family times on the boat. And it's so lovely seeing the excitement in the kids' faces when they catch fish."
He has fond memories of the time he caught a 22-pound snapper off the coast of Waipu.
"It was a drizzly, overcast sort of day about three or four years ago. We'd not had much luck, and it was the last cast of the day. It was my first snapper over 20 pounds. I dined out on that one for awhile," he laughs.
The professional
Boats have always been a part of Nigel Arkell's life.
His parents owned Roger's Boat Shop in Albany, which was founded in 1971, and he spent his early years playing around and later working at the store.
He is now the shop's owner and says the demand for trailer boats is still high.
"If I recall correctly, New Zealand has the third-highest rate of boat-ownership per capita in the world," he says.
He has had plenty of on-sea experience. His family and he spent time motoring around the Hauraki Gulf in an impressive Buccaneer 735 over the New Year period. The boat has hot and cold running water, a toilet, fridge, cabin and cooking facilities. He calls it
"a caravan on the sea".
He particularly enjoyed spending time moored off Waiheke Island. "We anchored in Garden Cove, which is a horseshoe-shaped bay. It was absolutely spectacular. My son loved jumping off the boat into the sea."
Ironically, as a boat salesperson, he doesn't get to spend as much time on the sea as he would like. "For boat people like me, actually finding time to go on out on a boat is hard. I have to work weekends, so the time I spend on the sea is very precious."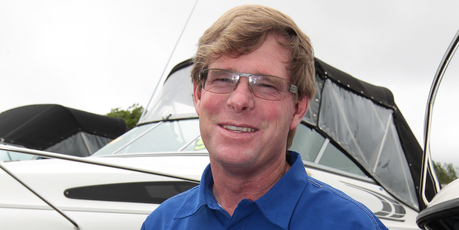 Arkell says that while things have been slightly tough in the boating market for the past few years, things seem to be on the up now. "The average working person has a bit more money and this is being reflected in sales."
He says entry-level boats (such as Fyran dinghies or the Sea Nymp V164) can sell for between $5000-$10,000, making them accessible to many people.
At the other end of the spectrum, high-end trailer boats such as the Buccaneer 735 will set you back $160,000. When it comes to larger boats, the sky's the limit. It all comes down to your budget, the size of the boat and the specs you're after.
Arkell says owning a boat is a great reward for hard-working people. "Being out on the sea in your own boat is a great reminder of why you work so hard. And once you have a boat, exploring our beautiful harbours and coastline is free. There's nothing quite like it."
The teenager
Not many 19-year-olds own their own boat but Dan Mollard is an exception. In fact, he was so enamoured of the idea of owning a boat he worked hard enough to afford one by the tender age of 13.
His family weren't boaties but Mollard worked helping his folks with landscaping chores and saved money from birthdays and Christmases to afford the lion's share of a small dinghy. He bought a 15HP dinghy for $3800 - he saved $2000 and his parents, who had been impressed with his hard work, helped with the extra cash.
Lack of experience meant Mollard got himself into some sticky situations early in his boating career. "I was on the Waitemata Harbour with my dad and my mate and we didn't realise how strong the current was. We'd put down an anchor and couldn't get it back up again . . . it was a pretty dodgy anchor, to be honest.
"My dad and I were on one side of the boat, and my mate was on the other. The boat became unbalanced and water started rushing in. Fortunately, my dad was able to right it, so we didn't capsize. We ended up having to cut the boat free from the anchor. I bought a much better one after that."
The Takapuna resident has since sold that boat and is now the proud owner of a 4.5m Seaforth, with a 40HP motor. Casey, as he christened it, is ideal for taking mates out on the sea. "There is a small cove near Takapuna that is only accessible by sea when the tide is in. I took some friends there a while ago and we had almost the whole beach to ourselves. The water is clear. It's a great place to swim. We met a guy on his OE who I ended up taking out on the boat. He'd never experienced anything like it before."
Mollard agrees boating is expensive. "I had to buy trailer lights recently and they were $500," he says. But he loves having a boat of his own. "If it's a nice day, you can just go out and spend time on the water. It's amazing to have that opportunity."