Address:
336 Hibiscus Coast Highway, Orewa
Phone:
(09) 426 6818
Rating out of 10:
Food: 6, Service: 8, Value: 7, Ambience: 7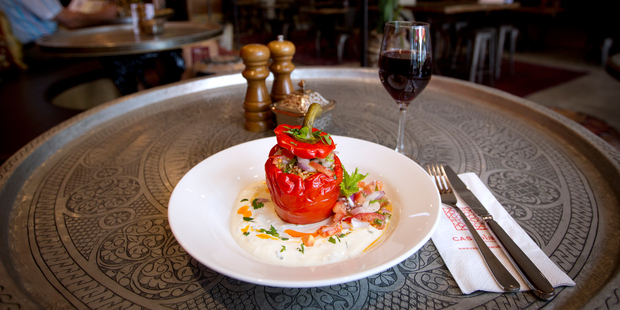 We'd walked past Casablanca, which opened on Hibiscus Highway a couple of months ago now. It's right next to our favourite cafe, Olivers, opposite the beach, and it's always busy. Friends and acquaintances say it's good; so off we went to taste for ourselves.
Once inside you can forget Orewa's previous reputation as being an extended retirement village. The Friday night crowd is young and jazzy. The aromas floating off the tagines are enticing, the decor mildly exotic and our waiter, Alex, attentive and friendly.
We started with small meze plates to share. The taramasalata was overly smooth, bland and disappointing, but the dolmai, a fat red capsicum stuffed with rice, currants, pinenuts and herbs and served with a generous slosh of yoghurt cheese, was fantastic as were the t'amiyeh or falafels. The calamari with aoli and lemon was tender and tasty and though the Anatolian bride's soup was thin and delicately flavoured, I really enjoyed it.
The wine selection was standard New Zealand: We chose a bottle of chardonnay and a glass of The Ned pinot gris to start with, plus a couple of glasses of Crowded House pinot noir to accompany our main courses.
Most of the small plates were accompanied by fluffy, crunchy Turkish bread which helped fill up the men, but our carefully-stretched Christmas tummies were definitely ready for our main courses which arrived rather sporadically. First came the Black Sea chicken for our visitor from southwest France, where Morocco is only a ferry ride away. He declared it "tres bon". Brian was pleased to find his favourite lamb shanks have made it into Moroccan cuisine. I, who have also spent a memorable month in southwest France, and have eaten several tagines, found this one was authentic which for me means the spices are a little too gentle and the sauce too thin, but Brian was well satisfied.
Meanwhile Oliver's kasbah fish was OK, while my iskander kebab, was a surprise. Rather than skewered chunks of meat, this was the other kind of kebab - slow-roasted then carved off a large joint. It was served on pide bread, topped with a tomato and thyme sauce and, instead of yogurt, served with aoli which made it devastatingly, wickedly, rich.
Only Ben, who ordered the split aubergine stuffed with beef mince, tomatoes and onion, was unhappy. Although his meal was last to arrive it was barely warm when he cut into it.
We sent it back but after all the faffing around, when it appeared again, piping hot but half-eaten and frayed at the edges, it never quite lived up to expectations.
So we drowned our disappointment in dessert. Baklava, chocolate cake, pear and ginger cake, sticky date pudding and coffee and fig mousse. The only two that were memorable were the baklava and the mousse.
This is Casablanca's second cafe; the first is at Sylvia Park, and the formula works well.
The atmosphere was energetic, exotic and mildly glamorous. Patrons had changed out of their beach clothes and into their fancy frocks and shirts. The service was excellent. The food was good, if not brilliant, although I realised later, when I totted it all up, we paid city prices for both food and drink, and neither was quite up to city standards.
On the other hand, Casablanca is open from morning 'til late, for everything from coffee to kebabs and is a welcome, exotic flourish to Orewa's line-up of restaurants and beach-front cafes.