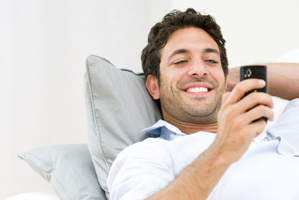 More than a third of single men use social media to spy on potential partners - some using what they find online to cancel the first date, a survey has found.
Single men are more likely than single women - 35 per cent of men surveyed, compared to 20 per cent of women - to use Facebook and Twitter to check out a date, with 65 per cent of those men saying they would read the 'about' section and posted comments before going on a date.
Around 15 per cent of those confessed to cancelling dates because of something they had seen on a person's social media profiles.
The findings from the unscientific Connected Men survey, carried out by AVG Technologies Australia/New Zealand, highlight the importance of privacy settings and online security, the company said.
"All sorts of strangers - from dates to prospective employers - view your social media accounts.
So it's worth taking a moment to think carefully before you post and to regularly review your own profile and privacy settings," said Michael McKinnon, security adviser at the internet security company.
The snapshot survey of 1098 men and 598 women across New Zealand, Australia and the Pacific Islands gives some indication of how our internet connected lifestyles impact on relationships.
Of the 75 per cent of respondents who were in long-term relationships, men were 2.5 times more likely to have content on their mobile phones that they would not allow their children to see.
Some 66 per cent of male respondents said they spent more than an hour connected to the internet each evening as they communicated with friends, work, browse and play games, with 26 per cent reporting email as the main reason for using their mobile device and 23 per cent saying texting and calling friends was the main reason.
However, AVG said it was worrying how many people did not use simple security on their devices.
"Our message of 'think before you click' seems to be getting some traction. Of the 28 per cent that use the same devices for work and personal use, more than a third (38 per cent) reported they are being more cautious about what they download," Mr McKinnon said.
"But it is disappointing that, with 40 per cent failing to use even the most simple protections such as passwords to lock their devices, they aren't following through with consistent security regimes."
- APNZ