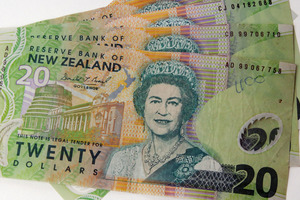 At about 10am on Sunday January 12th, I found a $20 note at Woodhill Sands, an equestrian event centre west of Auckland.
It was lying so perfectly in the middle of the main driveway that it could have been a prank. I half wondered if some unseen strand of cotton would drag it out of reach as I bent to pick it up.
I looked around to see if anyone nearby appeared to have lost something but there was no one in the vicinity. I held up the note to show my family.
"Score," said my ten-year-old. "No, it's not a score," I said. "Hand it in to the office," said my husband. "I will. I'll post it to them," I replied. Our horses were on the truck and we were in the driveway with the gate shut behind us. I didn't plan to trek back to find an office. (Cash is a prohibited item as far as NZ Post is concerned so I'll have to write a cheque to send it by mail.)
It's only the second time I've found lost money. The other occasion was when I was about ten. On my way home from school I found a $10 note which was quite a lot of money back in the 70s. I was really pleased. "Score," I probably thought to myself. So I was gutted when my father telephoned the school to tell them I'd be handing in the money the next day and that if they didn't find the rightful owner then the school should keep it as a donation.
Often the sum of money involved is a key factor in deciding how to act. According to the author of What do you do when you find cash in the street?, "[w]hen I found a fiver in a supermarket, I bought a steak - but coming across a whole wad of notes was a different matter."
Many readers who commented on this article considered anything under £20 to be fair game: "I found £20 once and spent it on champagne to celebrate," "Found cash? I'd pocket a twenty or less," and "Anything more than £20 I hand in." There were opportunists: "I found money on the back seat of a taxi ... I shared it with a rather bemused driver." There were well considered responses: "I weigh up the likelihood of finding the owner, the likelihood of the owner looking for it, and the amount involved."
And, there's no satisfaction to be found in that old expression: "Finders keepers, losers weepers." It's too simplistic. After all, what if the particular so-called loser concerned is a child who had saved hard or someone who had to make that cash last until payday? Or, as one of The Guardian readers commented, it "could have been somebody's pension money".
Thoughts such as these make me want to either hand the money to police or return the sum to the event organisers so it's no longer my responsibility. I kind of wish I'd hadn't picked it up.
Have you found money on the street? What did you decide to do with it? What would you do with a found $20 note?