Each week Rachel Grunwell will try out a new form of exercise to bring you the lowdown.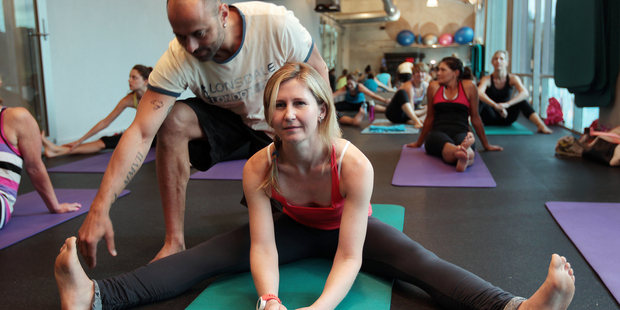 Prana Yoga
What is it? A dynamic stretch class, synchronising breathing and movement to achieve a flexible and well-functioning body. Prana means life force, or breathe, life, vitality of the spirit.
What's needed? Gym gear, water.
The experience: Some yoga teachers seek heavenly perfection out of a yoga pose. But Vincent Bolletta isn't one of them.
This experienced yoga teacher can pull off all those tricky, show-off poses such as handstands and backbends. But he'd rather keep yoga "real" to the masses, thanks. He won't prattle on about how you should try to seek divinity from everything you do. He'll tell you "this is just yoga, man" and flash his cheeky grin.
He says things like: "Try and touch your toes, but don't worry if you can't reach. Flexible people can still be arse*****. Flexibility doesn't define your character."
He's trying to say that you should try to reach your toes, or more to the point your potential, but yoga is more about enjoyment and a sense of personal achievement. Just give it a go and don't take it so seriously.
Vince knows his stance is "controversial" in the yoga world. But he reckons he just doesn't put yoga up on a pedestal for people to live up to.
I enjoy being a bit of a yogi and I've tried enough classes over the years to recognise Vince is among the best.
He's a freelance instructor and has his own studio, Yoga Ground in Grey Lynn. He also takes classes at other studios and gyms, as well as sessions for private clients, domestically and internationally. He works with doctors, too, to help clients with issues such as rehabilitation and combating stress. And he trains future yoga teachers at a school in Albany.
I see him weekly at the GetRunning studio and in the past I've joined some of his Les Mills classes where up to 80 people squeeze into his sessions. For this column I checked out his Prana Yoga class at Genesis Fitness in Remuera. I made a point of visiting him elsewhere because I wanted to see if he instructed, and connected, with all his classes in the same manner (even he admits "I push the edges"). And yes, Remmers women use their laughing muscles as much as they stretch their limbs as they delight in his tales.
The 46-year-old was a gym instructor when he was introduced to yoga by a mentor and friend in 1989. He loved the artistry of it, how it looked, and how yoga made him feel.
He sees yoga as something that is physical, but exudes gracefulness, peacefulness and calmness. He believes it improves people's lives.
For this class, we did a warm-up with knee-hugs and then lay on our backs for synchronised leg and arm movements. Downward dogs, and other variations of this movement featured and then squats and pigeon poses (sit-down, hip-opening positions), and more. Nothing too tricky, but a challenging good stretch and body strength workout. To end the class, we relaxed on our backs.
He's done an exhibition of yoga poses that went all the way to a fine arts gallery in Colorado. And instead of sunsets in the background of these pictures, his were done in gritty urban environments. Again, it's all about making yoga seem accessible and adaptable and to show "it can be done anywhere".
Vince helps me unfurl my rigid runner's body with yoga. He puts me in challenging pretzel-like positions. I leave his sessions feeling like I could leap out of a jack-in-the-box.
Worth it? For those with a sense of humour.
Try it: The Genesis Gym is at 33 Haast Rd, Remuera, www.genesisfitness.co.nz or find other Vince
classes via www.vincentbollettayoga.com
Rating: 10
Rachel wears: Clothes by We'ar: 35mm Tank $85; Bamboo Indah Bra $65; New Romantic Leggings $125, www.we-ar.it