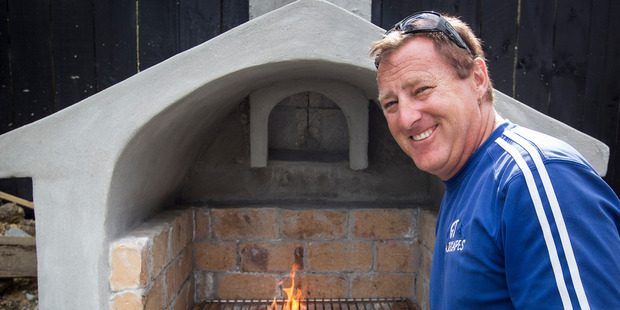 Last week I showed you how to create the first stages of this beautiful barbecue and today I will cover installing fire-bricks and doing the plastering.
This style of plaster finish not only looks good - giving you a Mediterranean feel - it is also easy to achieve as it doesn't have to look perfect.
Step 1
A wood-burning barbecue will need a spark arrestor as this will trap any loose embers from escaping out of the chimney. Measure mark and cut 4 strips about 50mm-wide x 75mm-long on your 400x400 pavers, then cut the 400x400 paver to length to suit the angled pitch you require over the top of the chimney. Then, with your pre-mix, mortar the 4 corner pieces in place. Wait for the mortar to set before mortaring in place the angled pieces.
Step 2
Mix water and cement to a slurry consistency then, using a brush, flick the mixture all over the framework. This helps give the plaster to adhere well.
Step 3
Starting flush with the existing framework from the front on the left and right side, find the centre of the back inside framework. Now lay the firebricks out in a running bond pattern leaving about 8mm of space between the frameworks. With this first layer set out as a dry run, cut the fill-in pieces to suit the size of the gap as you go.
Step 4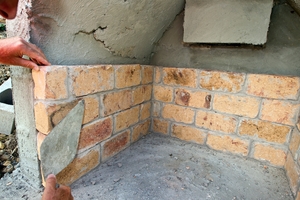 Mix up your high-temperature mortar (follow the instructions for best results) then spread the mortar on to the base and between each fire brick. The joints should be kept to a minimum thickness achievable and no more than 2mm-thick. Make sure the bricks are free of dust. With the next row lay the brick half way over the joint of the previous bricks then lay in the same manner as before, checking with a level as you go.
Step 5
Mix 3 parts plaster sand with 1 part cement with plasticiser and water to create a workable consistency. The plaster should stick to the framework without falling apart. Now trowel on one area at time about 25-30mm thick, using a straight edge as a guide to work along when doing the edges and corners.
Step 6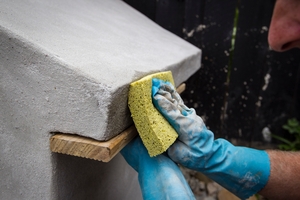 As the plaster starts to dry start to shape it with a sponge, then finish rounding the edges and corners and removing the trowel marks.
Finally, add a removable stainless grill to fit with about 20mm clearance either side, sitting on fire bricks to the desired height.
Hot tips For best results when plastering, set up a tarpaulin to cover your project - the shade will stop the plaster from drying out too quickly.
If the plaster gets too dry to work when sponging, flick water with a brush on to the areas where it's required.
Grind out a curved shape to match the curved roof on the inside of the chimney.