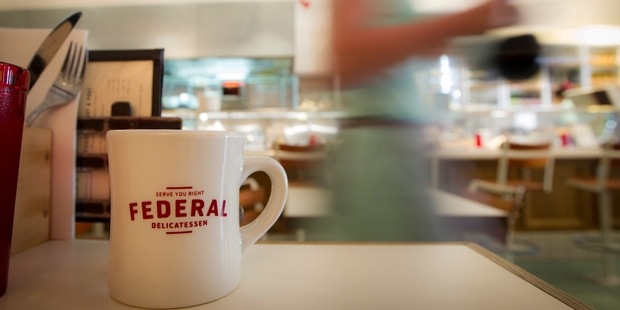 How did the word "schmaltz" come to mean excessive sentimentality? It is the Yiddish word for chicken fat, which became important in cooking because Jewish dietary laws ban butter for frying.
In Gentile culture, sentimentality is always associated with sickly sweetness, but a visit to Federal Delicatessen impresses on you the centrality of schmaltz to the Jewish culinary repertoire. The latkes (fritters of grated potato, onion and dill) are fried in it; it lends body to the matzo balls in the chicken soup, whose broth gleams with droplets of it; and there must be plenty in that chopped liver. This is, in short, not a weight-watcher's dining destination.
Federal is Al Brown's third Auckland venture, after Depot and Best Ugly Bagels. In New Zealand, "delicatessen" was always a name applied to retail stores selling salami and smelly cheese, which have been largely superseded by gourmet grocery stores. What Brown's operating here is an absolutely classic New York Jewish deli and it's hard to overstate what a terrific job he's made of it.
The fitout has achieved authenticity yet quite avoided the try-hard excess that such ventures often fall victim to. There are slightly elevated booths down one side, and tables down the middle. Waitresses whose retro uniforms are almost as snappy as their impressively cheerful service work the room with such efficiency that there always seems to be one within reach. The room-length open kitchen is sectioned according to task: here a chef plates up thick slivers of salmon; there another watches over a rack of chickens on a vertical charcoal rotisserie; and at the end a third cuts big slabs of apple pie and cheesecake.
I had been lured along to Federal by a Jewish mate who is pretty hard to impress, I can tell you. He was thrown into paroxysms of conscience by the discovery that the place is owned by SkyCity, but when I told him that I was paying, the ethical dilemma seemed to vaporise. It was certainly both handy and delightful to have him along. He was bouncing up and down in his booth seat (on his arse, you understand, not his feet) and saying lots of sentences that began with the words "You gotta try ..." or "We gotta have ...". He even talked me into a choice from the soda fountain menu.
The main gotta-try for me was a pastrami sandwich. I'd had bad reports of this from my mate Jim, a Brooklyn boy, whose facial expression was a mixture of sorrow and pity as he told me what a real pastrami on rye is like.
I know what he is talking about because I made the mistake of ordering one in New York. Eight slices of meat kind of trebled over so you'd need a mouth like a steam shovel to get your jaws around it.
In the Land of the Supersized Helping it's all about quantity, but give me the modest helping of pastrami at Federal any day. It's thick and hot and slightly crumbly and comes between slices of toasted rye bread with impressively tangy mustard. I've had better rye, I admit, but I'll take Al's pastrami on rye ahead of the one at Katz's any time.
So on it rolled: the playfully named "lots of lox" (shouldn't that be "lotsa") in which Stewart Island salmon was cured three ways - with citrus, dill, and spices - came in generous piles. The ox tongue, that most underrated of meats, sliced paper-thin so as to almost melt on the, er, tongue, was dressed with caperberries and witloof.
I thought the chopped livers too creamy, like a parfait rather than the lovely rustic lumpy stuff they make at Dizengoff, and I didn't quite get the matzo ball thing, but my Jewish mate ("You're breaking my heart here") tells me that it is outstanding of its kind. Those latkes were to die for and the apple pie and baked cheesecake were as genuine as a yellow-cab-driver's snarl.
I've read complaints about the coffee at Federal. They are misplaced. There is no coffee at Federal. They serve a slightly musty dishwater, which comes in heavy-bottomed cups. It's $3.50 for as much as you can drink. That's overpriced by $3.50. They should give it away and warn people not to drink it. But I'm picking it would have made Brooklyn Jim homesick.