New Year resolutions to get fit lure thousands to join up. Morgan Tait finds out what you get for your money and what to watch out for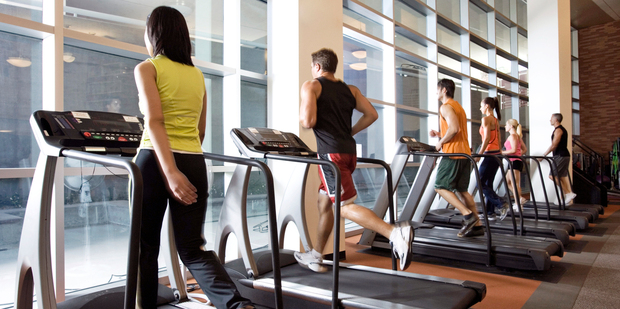 Gyms around the country are offering sweeteners to attract eager new clients fulfilling their New Year resolutions, but experts warn to exercise caution when signing on.
A Weekend Herald survey of 11 businesses found a range of promotions available for January, including some that presented special, non-advertised deals.
New Zealand Institute of Health and Fitness general manager Gerome Garthwaite, who has more than 15 years in the industry, said 12 to 14 per cent of Kiwis were estimated to have memberships to some form of club.
Numbers always soared in January, he said.
"There is always a surge in memberships, that New Year resolution is a big one ... and there's a whole bunch of really standard deals that go out, like 'Join now and don't pay a cent until February', and more frequently nowadays they are also bundling services in like 'Join now and get a free personal training session'."
New Year specials at businesses surveyed by the Weekend Herald found free use of Configure Express, Curves, Les Mills and Cityfitness until February, and no or discounted joining fees at Curves, Les Mills and Next Generation.
Some establishments were even willing to offer the Weekend Herald, which did not identify itself, other non-advertised deals.
Les Mills' standard rate for a 12-month contract was $33.10 a week on inquiry, but was reduced to $23.76 a week because the Weekend Herald caller was an ex-member.
Cityfitness also offered to cut the standard $21.90 weekly fee to $18.90 if the caller signed up on the spot, and Next Generation offered to extend an expired promotion for free tennis and no joining or administration fees.
Consumer NZ adviser Maggie Edwards said it was important to read contracts before signing on and look out for "hidden costs" such as joining and cancellation fees.
She dealt with about a dozen complaints each year, mainly to do with contracts ending or facilities that changed group fitness timetables: "Mainly when classes are altered with little or no notice to members, when people try to cancel [contracts] or if payments keep rolling over."
She said complaints about gyms had tailed off after a Commerce Commission sting in 2011 that warned of legal action when a survey of gyms found the majority using questionable contracts.
"It used to be a hot topic five or six years ago ... Gym contracts have got better, they are still not perfect."
An amendment to the Fair Trading Act would further protect consumers from unfair contracts when it came into effect in 2015, she said.
Mr Garthwaite said preconceptions about gyms were changing, and establishments now worked hard to ensure customer loyalty.
"The industry has changed a lot, particularly over the past five years, if you go back to the late 1990s and early 2000s a lot of gyms were probably a bit guilty of just getting bums-on-seats contracts and not really being too concerned what happened after the cheques started rolling in," he said.
"The gyms of today are generally much more professionally run and have a much bigger focus on retention of members, so retention is a really big thing in the industry ... particularly engaging people early so they can keep them on the wagon."
He advised newcomers to look at all the options available when signing up.
"The market is segmenting into two options, the 24-hour lower service base where you can get a membership for between $10 and $12 per week, then there is the more full service option, the likes of Les Mills and Cityfitness, for between $20 and $25 per week, and they are very, very different products and environments to train in.
"That variety is really good and can take some of that fear and need to lock in out of the industry."
Other, less traditional forms of exercise such as CrossFit were options for some people, particularly those who were really competitive and liked to be "pushed and challenged and thrashed". He advised signing up to institutes that offered induction periods to get your body used to the high-intensity format.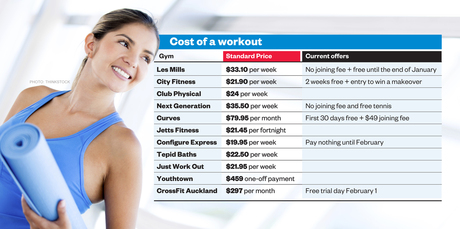 Boxing clever
How to get the most out of your membership:
• Wait for the right deal - compare prices and ask for a deal.
• Know what you (don't) need - some gyms have all you could want, but may charge a premium. Others offer the basics for a minimum fee.
• Convenience - choose a gym near your home or work. Consider its peak hours and if you are willing to wait to use equipment.
• Clientèle - are you going to feel out of place next to lycra-clad gym bunnies?
• Invest in a trainer - people shown how to work out properly get the results they want.
• Take advantage of free trials - most offer at least one week.
• Read the contract - know exactly what you are getting charged for.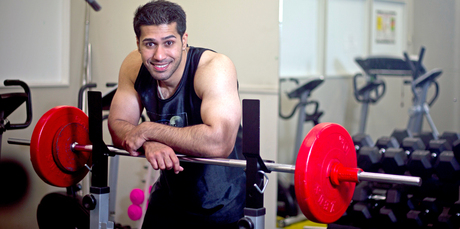 Member gets mileage out of generous package
Ken Sharma took advantage of a student promotion at a central Auckland gym, and two years later he still works out there five times a week.
The 29-year-old sales manager initially took up a six-month membership at Youthtown Gym for its sports court facilities and close proximity to his central-city workplace.
"I paid [the student price of] $195 for six months. Because it has a basketball court, squash and a swimming pool, I thought it was a very generous deal for all these facilities," he said.
He looked at a range of other businesses, before settling for Youthtown.
"I was looking in the city and I thought that this was the best deal with the facilities and all the combination of services they offer."
Mr Sharma said he still attended the gym five times a week.
"I started doing some weight training and bootcamp training, and then mixed in some cardio. After the first two weeks I felt tired, but after two more ... it became my lifestyle."