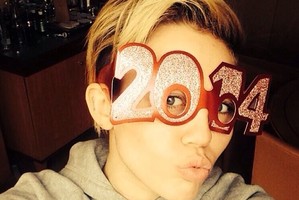 Among the many listicles commentators the world over produced as they wrapped up the year was Lake Superior State University's 39th annual list of most annoying words.
The compilers received more than 2000 nominations and the most annoying word of last year was deemed to be "twerking", thanks to Miley Cyrus' grotesque display of bottom-shaking at the MTV Video Music Awards. People who saw the clip asked in wonderment "What on earth is that silly girl doing?" and the answer was "twerking" or, to be strictly accurate, attempted twerking, because when you see the girls with the booties who know what they're doing, Miley was seriously out of her league.
"Selfies" was also deemed to be incredibly annoying - selfie being used to describe the art of taking one's own photo. I prefer my mum's word for selfie. She called them me-sies by mistake and I think that's much better - the plural of me-sie being we-sies of course.
For me, the most annoying word of 2013 would be "comfortable" - something the Prime Minister always seems to be. There's a lot to be said for being unflappable. Calm in a crisis. If you're a surf lifesaver. Or a nurse. But I'd prefer the Prime Minister to be a little bit agitated, concerned or uncomfortable from time to time, given some of the questions he's had to answer about his ministers and his government departments rather than describing himself as comfortable, a word he manages to mangle into two or three syllables.