Research on role of early childhood centres in health New Zealand a first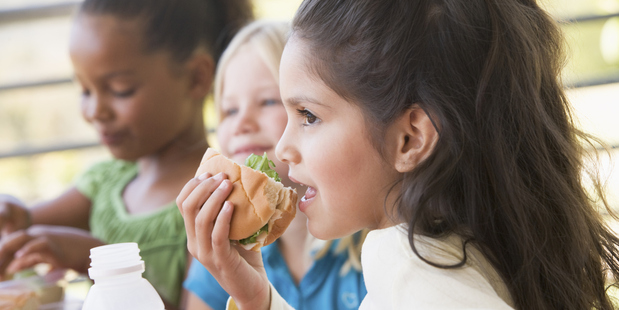 Early childhood education centres are targeted in a new study examining some of the root causes of New Zealand's growing obesity problem.
Eleven per cent of Kiwi children are today considered obese and, based on current rates of increase, obesity is predicted to overtake smoking as the leading risk factor for disease by 2016.
New research by Gravida, the National Centre for Growth and Development, will look at nutrition exposure in early childhood education (ECE) centres, filling in what is a blind spot in present research.
A study like this has never been done in New Zealand and will provide researchers with important information on how ECE services influence children's health.
"Eating preferences are set at a really early age - some people say even before the age of one," said Auckland University PhD student and sociologist Sarah Gerritsen, who is leading the research.
"So it's crucial that we get to children early in life and expose them to a wide range of fruit and vegetables and healthy eating habits, like sitting down at a table."
Over the next four years, Ms Gerritsen will investigate the role different types of formal and informal childcare environments may have on diet and growth patterns of toddlers.
It's believed the ECE environment has the potential to influence a child's diet, food preferences, eating behaviours and physical activity for life.
Initiatives to promote health and wellbeing had been rolled out across the sector, but the last survey was done five years ago, she said.
At the moment, nutrition in ECE centres was "the missing piece of the puzzle" and it was unclear what influences they were having on children.
"It could be a positive thing, or it could be negative, we really don't have a clue."
Ms Gerritsen's research will survey all ECE services in the Auckland, Counties Manukau and Waikato area, collecting information on their food, nutrition and physical activity practices and policies.
The results will then be combined with data from the Growing Up in New Zealand project, which was collected from 6800 children from before birth in the Auckland, Counties Manukau and Waikato District Health Board areas.
"Our goal is to quantify the proportion of influence that comes from the ECE environment and to be able to see, of the children who started ECE at a young age, how much of an impact it has made on their health."
It comes amid a big research effort aimed at arresting and reversing soaring obesity rates in New Zealand.
Another Gravida project is looking at what impact exercise by pregnant mothers can have on their children before they are born, while a major $5 million programme funded by the Health Research Council is studying everything from children's daily exposure to junk food and labelling to potential taxes and subsidies for food products.
About 30 per cent of adults are considered obese, and the Government is working on a national strategy on obesity reduction, expected to be released within a few months.
A report by the Restaurant Association and the Auckland University of Technology this year revealed Kiwis ate $1.5 billion worth of takeaways last year - more than 9 per cent above the previous year.
That equates to about $330 - enough for 63 Big Macs - for every man, woman and child in the country.

Big figures
• 11% of NZ children considered obese
• 31% of NZ adults considered obese
• 196,535 enrolments in licensed early childhood education services in July last year
• 95% of children starting school last year had attended ECE centres
• 21.1 average hours children enrolled per week in ECE centres - 40 per cent of enrolments attended for 20 hours or more in 2012