Dionne Christian and her family hunt down their holiday food favourites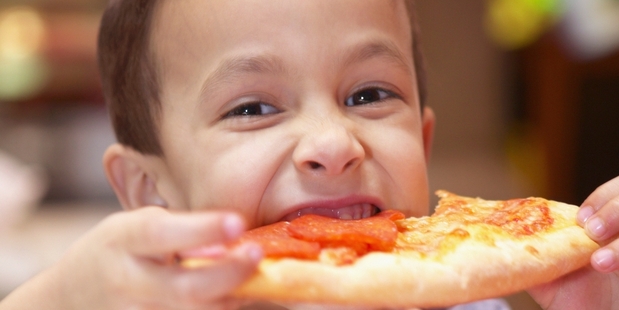 And we were off again! With summer about to shine, the family and I took to the highways and byways of the upper North Island in pursuit of traditional New Zealand summertime fast-food favourites.
Let's start with the high-fryers of our fish and chip takeaways. After all, nothing says summer like fish and chips on the beach, right? Oddly enough, some of the best fish and chips we found were far away from the coast, such as the Queen Vic Chippy in Cambridge - which is heartland Waikato territory - and at Greenwoods Corner in Epsom. We were guided by the results of the 2013 Best Chip Shop Competition, run every second year by the Chip Group. Entrants have their chips laboratory tested for fat content, and mystery diners also rate chippies on the taste and quality of their food, shop cleanliness and customer service.
Queen Vic Chippy
The Queen Vic was named the 2013 Best Chip Shop for the Waikato, Bay of Plenty and Hawkes Bay region. Co-owners Amanda Duggan and Bernie Hilbers are qualified chefs and it shows in their care and attention to detail as well as the extensive menu.
Along with fish and chips, there's an extensive range of burgers, toasted sandwiches, fritters and sides such as home-made coleslaw, broccoli and cheese bites, battered mushrooms and mushy peas. The fish tasted fresh and the batter to fish ratio was just right. Highly recommended - especially the broccoli and cheese bites.
85c Victoria St, Cambridge, ph (07) 827 6054
Greenwoods Fresh Catch
Thomas Ng and and Lilian Sng, who own the Auckland regional winner of this year's Best Chips Competition, are no strangers to this event. Previously they owned an award-winning takeaway in Papakura before temporarily retiring and then opening the new business.
Thomas, a chef who's worked in five-star hotel kitchens, believes in keeping the menu short and focused. Greenwoods offers chips, kumara chips, two varieties of wedges, onion and squid rings, and fish battered or crumbed. The chips were $4.50 a scoop, but it was a generous helping and they were crunchy on the outside, moist inside and totally moreish.
1 Pah Rd, Greenwoods Corner, Epsom, ph 631 0111
Oceanz Seafoods
This one scooped the title of New Zealand's best chip shop. For owners Daniel and Richard Billington, cooking great chips is in the genes. The brothers worked in their parents' fish and chip shop during their teens. Now it's confession time: we haven't yet made it up to Silverdale but friends who live locally recommend this takeaway, and the judges of the Best Chips Competition declared Oceanz Seafood's chips tasted fantastic They were also impressed that the chips were not salted (a salt sachet gives customers a choice of how much salt they want).
Corner Hibiscus Coast Highway and East Coast Rd, Silverdale, ph (09) 427 0740
Bobby's Fresh Fish Market
Recommended by an award-winning chef, Bobby's gets my vote for the most authentic fish and chip shop.
Situated on the water's edge, Bobby's serves fish that is caught locally and you can see it being filleted. You can take home fresh fish or dine in on New Zealand green-lipped mussels, Pacific oysters, kina, manuka smoked fish or seafood kebabs.
Watch the boats, listen to the water lapping against the wharf and enjoy a generous portion of top-quality fish and chips.
Bobby's is my favourite for this year, although a notable mention has to go to Long John Silvers, which is found in shopping mall food courts and roadside service centres.
It's not so much for its fish and chips, but because they're taking steps to introduce a more comprehensive range of salads, much appreciated by those of us looking for healthier options.
1 Dive Cove, Tauranga, ph (07) 578 1789
Cool treats
I'm still salivating over a violet and chocolate gelato combo I had at Spencers Delicatessen and Gelateria in Glendowie last year - it was that good - and we'll make it back to the Takapuna Beach Cafe this summer for one of its glorious (and award-winning) gelato cones.
In Rotorua, we enjoyed generous icecreams at Lady Jane's Ice Cream Parlour (1092 Tutanekai St) and Copenhagen Cones (14 Adams Ave, Mt Maunganui) and nearby Monte Gelato (Marine Parade) are favourites in the Bay.
There will be new places to try; this year's award-winner, South Island Zuzu's Gelato is heading north this summer with plans for stores in Auckland's CBD, Mission Bay and Stonefields in Meadowbank.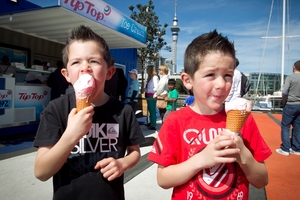 Recently opened The Gelato Workshop in Birkenhead (77 Birkenhead Ave) has all the favourite flavours. My personal favourite is coconut and chocolate, which is a bit like a Bounty bar, but Miss Four couldn't get enough of the hokey pokey. Miss Nine preferred a white chocolate and coconut pairing. The girls opted for waffle cones, which are made fresh in-store each day.
But the big trend this year has to be self-serve frozen yoghurt outlets: Kiwiyo, Yogorino and Yoghurt Story, found mainly in the malls but also at various locations in Auckland's CBD. All work in much the same way. You grab a cup or a cone and serve yourself, starting with a yoghurt base - and there is a huge range of flavours available - then you add toppings of fresh fruits, nuts, cereals, chocolate, lollies and sweet sauces. Much is made of the health benefits of yoghurt: it's low in fat, it contains live cultures and probiotics etc, but add a couple of the less nutritionally sound toppings and you'll quickly undo any benefits from the yoghurt. The desserts are weighed and prices charged per gram so besides adding calories, bountiful toppings also add cents.
Meanwhile, New Zealand's own self-styled Merchants of Freezery, White's & Co, has an outlet in Auckland's Vulcan Lane, as well as the original Britomart store. I reckon this is by far your best bet if you want top-quality and all-natural yoghurt. White's started with four base flavours - vanilla, chocolate, berry and mango - and has added two for summer: salted caramel and lemon cheesecake - all of which are made by gourmet dairy brand The Collective. It tastes more natural than offerings at other outlets and the range of toppings is equally extensive.
Pizza
I would drive from our home in South Auckland to Waipu in Northland just to have a pizza from the Pizza Barn (2 Cove Rd, Waipu, ph (09) 432 1011) - they're that good.
In summer, when the population of the beachside settlement swells by several thousands, the queues go out the door, so order early.
Choices include the Herbalist (kumara, avocado, brie, red onion and basil pesto), the Gumdigger (smoked salmon, asparagus, blue vein cheese and basil pesto) or the Bullocky (shrimps, ham, bacon, red onion, mushroom and aioli), as well as burgers, salads and comfort-food favourites such as lamb shanks or bangers and mash.