Each week, Wendyl Nissen takes a packaged food item and decodes what the label tells you about its contents.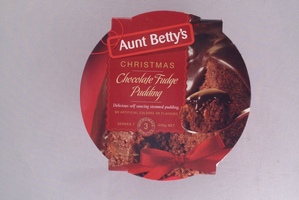 I bought this thinking it was a traditional Christmas pudding full of fruit and only discovered when I got it home that it was a chocolate pudding. Never mind, everyone still wants a bit of chocolate at Christmas. Making puddings for one of the hottest days of the year seems ridiculous but we have our British heritage and tradition to uphold and most Kiwi Christmas Day tables will feature a pudding, hopefully studded throughout with boiled coins for the kids to find.

Ingredients
• Invert sugar syrup - This is sugar which has been treated to split into glucose and fructose which is sweeter than sugar and when used in processed foods remains more moist and less prone to crystallisation.
• Sugar - Per 93g serving size (there are seven servings in one of these puddings) you will get 38.3g of sugar or just over 9 teaspoons of sugar.
• Water
• Wheat flour
• Glucose syrup - This provides more sweetness but will also help keep the pudding moist.
• Rice bran oil spread (contains emulsifiers (471, rapeseed lecithin) - Many people prefer to use rice bran oils for its health benefits. A study in 2005 reported that total cholesterol levels dropped significantly, including a 62 per cent decrease in "bad" cholesterol, when antioxidants from rice bran oil were added to the diet. This oil has the emulsifiers mono and diglycerides of fatty acids (471) which is produced mainly from hydrogenated soya bean oil and rapeseed lecithin which is a natural product. Rapeseed is another name for canola oil.
• Humectants (sorbitol, glycerine) - Humectants work in a food product to keep the moisture in. Glycerine is a natural product and a very common humectant. Sorbitol is a natural carbohydrate alcohol found in many fruits but is also commercially produced from glucose. It is also a sweetener and is commonly used in chewing gum. Sorbitol can cause bloating and flatulence as it is only partly absorbed by our bodies with the remainder fermenting in the large bowel.
• Cocoa powder (3.5%) - This provides the chocolate flavour.
• Milk solids - These are what are left over in milk once you take the liquid out. They are a common ingredient in chocolate products.
• Breadcrumb (wheat flour) - Normally breadcrumbs would also list the ingredients which made up the bread from which the crumbs have been made. In this case perhaps the crumbs are simply wheat flour.
• Raising agents (541, 500) - These are sodium aluminium phosphate (541) which is a chemical compound and baking soda (500)
• Modified maize starch - This will be similar to cornstarch and in here to thicken the chocolate sauce.
• Whole egg powder - A substitute for real egg.
• Stabilisers (xanthan gum, pectin) - Xanthan gum and pectin are both natural products used in processed foods to keep them stable and moist.
• Acidity regulator (citric acid) - Citric acid is a natural product.
• Natural flavours - Excellent to see natural flavours used here. Most of the flavour will probably come from the cocoa but there may be some vanilla in here as well.
• Firming agent (calcium chloride) - This is a salt formed from calcium and chlorine and is used in food to prevent it from collapsing.
• Preservatives (200, 202) - These are sorbic acid and potassium sorbate which is neutralised sorbic acid.
• Salt - You will get 254mg of sodium per serve of this pudding.
My recommendations
To make a pudding yourself does take a lot of ingredients. This pudding which will last until December 2014 requires the addition of preservatives and various emulsifiers, stabilisers and humectants to keep it moist and in good order for 12 months.
My preference would be to make my father's chocolate self-saucing pudding which takes hardly any time at all (recipe below).
But if having one of these on hand for Christmas Day will mean you will have a more relaxed time, there isn't too much wrong with one of these.
• Dad's Chocolate Self-Saucing Pudding
Sift together:
* 1 cup flour
* 2 tsp baking powder
* ¼ tsp salt
* ¾ cup sugar
* 2 tbsp cocoa
Combine:
* 2 tbsp melted butter
* ½ cup milk
* 1 tsp vanilla essence
Add the liquid to the dry ingredients. Mix well until you have a rather thick batter. Spread this butter in the bottom of an ungreased pan. I use a 2 litre casserole dish.
Blend:
* ¾ cup firmly packed brown sugar
* 4 tbsp cocoa
* 1 cup hot water
Sprinkle the sugar and cocoa over the top of the sponge batter. Then pour the boiling water over the back of a spoon onto the batter mixture.
Place in a 180°C oven for 45 minutes. When cooked the batter will have turned into a lovely dark chocolate sponge and the sauce will be oozing through it.

Do you have a food product you would like Wendyl to feature? Email wendylwantstoknow@gmail.com with suggestions. Unfortunately Wendyl cannot correspond with readers. Read Wendyl's columns on other food products here.