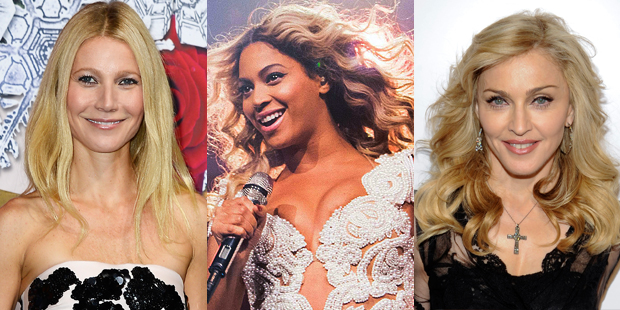 From Beyonce's vegan "cleanse" to Gwyneth Paltrow's gluten-free recipes, many of us have followed celebrity-inspired diets.
Now scientists have explored why we listen to advice from celebrities instead of medical professionals, especially when much of it can be ill-informed and even be potentially harmful.
Canadian researchers investigated how celebrities gain credibility as medical advisers and concluded it is a mixture of our instinct to follow the herd as well as the "halo effect," which gives stars an alluring trustworthiness.
While Michael J Fox and Sir Elton John have both raised millions of dollars for Parkinson's research and HIV prevention, and Angeline Jolie has been praised for raising awareness about the genetic risk of breast and ovarian cancer, other people in the public eye have not been so helpful.
A paper published in the Christmas edition of The British Medical Journal said celebrity medical advice can be a health hazard and mentioned Sir Michael Parkinson's advice on how to self-diagnose prostate cancer, as incorrect and unhelpful.
Sir Michael claimed that if men can urinate against a wall two feet away, then they do not have prostate cancer, while Gwyneth Paltrow has claimed in the past that she was fighting the "evil genes" that cause cancers by eating fresh food only.
While celebrity diets might seem harmless, Catherine Collins, principal dietician at St George's Hospital, London, told The Times that by endorsing simply cutting out gluten, wheat, or dairy products for example, celebrities are giving "disordered eating...the veneer of respectability."
The study researchers analysed economic, marketing, psychology and sociology studies to try and work out how celebrities gain credibility as medical advisors and why the public listens to them.
They said that people are "psychologically programmed" to follow the herd and make decisions based on what other people have done.
The researchers believe the "halo effect" of celebrities gives them "a cloak of generalised trustworthiness which extends well-beyond their industry or expertise."
Members of the public find it easier to choose to follow in a favourite celebrity's footsteps, ignoring other advice that can be more reliable, they said.
The study pointed out that as celebrities link themselves to products they are promoting, they are perceived as having credible insider knowledge, despite their lack of medical experience.
The researchers also believe that consumers want to buy into public figures' "social capital" in the belief that owning the same products and taking celebrity advice allows them to rise in social status and buy into their lifestyle.
The study has called on doctors to warn their patients about the dangers of following celebrity advice.
Steven J Hoffman, lead author of the study, said: "We need to rethink and better understand where people obtain their health information and what makes them act upon it.
"Understanding why people follow celebrities' medical advice represents a good start."
"There are strong biological, psychological and social bases accounting for why people follow celebrities' medical advice," he told The Times.
"Their power can be harnessed to disseminate information based on the best available research evidence, or it can be abused to promote useless products and bogus treatments."
Celebrity's dishing out health advice:
• Beyonce and Jay Z have recently announced they have embarked upon a vegan cleanse, but experts have said that a short-term approach will not make a huge difference to their health.
• Gwyneth Paltrow regularly dispenses health advice as well as gluten and dairy-free recipes on her GOOP blog.
• In 2007 she reportedly claimed to be fighting 'evil genes' that cause cancer, by eating fresh food.
• Madonna is said to have followed the 'air diet' which involves holding food inside the mouth but not eating it.
• Sir Michael Parkinson said men could self-diagnose prostate cancer.
- DAILY MAIL