Two train stations, a carousel, and ice skating rink, a hotel and a fire station - a village built by Jon Lovitch is actually a lot like others with one major difference. His is edible.
Made of kilograms of gingerbread, litres of icing and entire sacks of lollies, the edible gingerbread village is the largest ever made, the Guinness Book of World Records confirmed.
The honour was bestowed on the creation that Lovitch calls Gingerbread Lane a few weeks before Christmas.
The sugar paradise whose weight alone - 1.36 tonnes - leaves fairy tale characters Hansel and Gretel agog has more than 160 houses, the smallest of which is 15 centimetres high. The 37-year-old cook assembled them on a wooden stand at a science museum for children in the New York borough of Queens.
"The largest house is the plum pudding hotel," Lovitch said, pointing to the structure made of gingerbread and decorated with red and green chocolate lollies.
"There's even a Christmas tree inside - made of gingerbread, of course."
Lovitch personalised some of the buildings. A lolly shop, for example, is named after his wife, Jackie, and he put a hippopotamus on the nearby carousel for her because she likes the animal so much.
There's also a clock tower with its hands set to 7 pm, Lovitch's favourite time of day.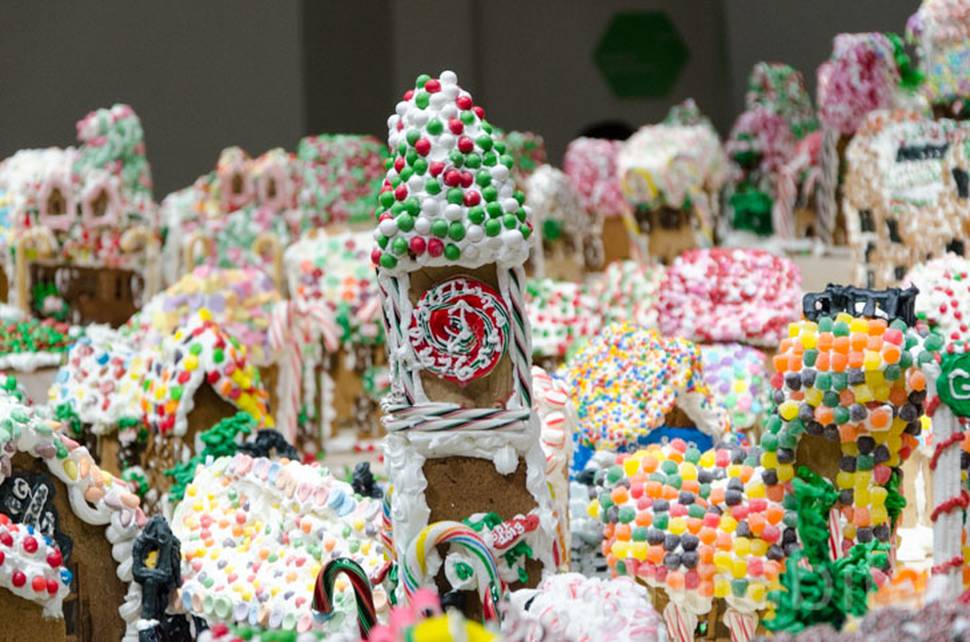 Lovitch started the project last year after Christmas at a time when all the people he knows couldn't stand to look at gingerbread any longer. He developed the design and drew a map. In February he started baking.
Lovitch, who works in a New York hotel, baked all the pieces and decorated them in a kitchen that is only about one-quarter the size of his finished work.
He stored the pieces in his spare room in his small Bronx apartment and by the middle of November was ready to start transporting the pieces by car to the museum.
The first thing Lovitch set up was a few gingerbread men, each about as large as a wine bottle, at the back of the village near a wall.
They stand guard there in a place that people can easily overlook, said Lovitch. But he put them there because he wanted to give people something to discover.
"It is all supposed to be a child's fantasy just something a kid would dream of, it is not modelled after a real city," he said.
He finished setting up Gingerbread Lane in about one week and now he checks in regularly.
"I am a perfectionist," he said, pointing to a sugar ribbon sliding down a house, something he attributes to the humidity.
"It drives me nuts, I will have to work on that right away."
Gingerbread Lane is Lovitch's 28th gingerbread village. Lovitch, originally from Missouri, paid several thousand dollars from his own pocket for the ingredients.
"It's a very weird hobby, I know. But the reaction it gets out of people is just amazing and that's why I do it. I really like the feeling it gives me to know that I did something to brighten people's day."
He receives positive feedback about his gingerbread creations all year long in letters, emails and calls, and his wife says it's better than him having a gambling habit or playing golf every weekend.
Gingerbread Lane will be on view through January 12 at the museum, which welcomes more than 1000 visitors a day. Afterwards it will be taken apart and given to children.
Lovitch takes two or three weeks off every year, goes skiing and doesn't think about gingerbread, but then starts his project again.
He admits it's not easy to get started and keep going, particularly in summer when the weather is nice outside while he's inside putting frosting on gingerbread.
But he's spared one of the most tempting things about baking - tasting the dough. That's because he doesn't eat gingerbread.
- DPA