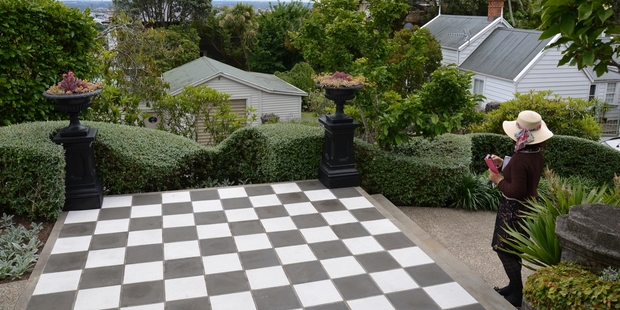 I don't know about you, but for me garden design tours are a legitimate way to take a sneak peek at the lives of others. So much is said in a backyard about the interests and lives of the occupants. Dashing around at the Auckland Garden Design Fest in mid-November, I found myself coveting a dark grey swimming pool lined with papyrus in a Xanthe White garden in Mt Eden. The front yard was an impressive native garden with a restrained palette, which suited the angular, modern house designed by Glamuzina Paterson Architects.
A showstopper in this garden was the seamless Selliera radicans groundcover. I've seen this plant growing in its natural habitat on the damp lee side of sand dunes and salt marshes, where it can grow in a sparse open form. But the gardeners at this site had it growing as a solid sheet, which was quite remarkable.
It was a hot day and the more gardens we visited, the more inviting the swimming pools became. Hearteningly, it seemed almost every garden had some edible component, either hidden away or in full celebration.
A large formal garden designed by Sue and Colin McLean featured a theatrical brick structure covered with clipped ficus, which framed the entrance to a terraced garden and yet another pool. This 1920s historic house in Remuera had a potager food garden secreted away out of view of the main house and espaliered fruit trees alongside well-kept vege beds. An unexpected surprise was the beehives hidden in an out-of-the-way spot, from which the owners harvest their own honey.
Landscape designer Trish Bartleet collaborated with Pip and Aileen Cheshire on their garden in Freemans Bay. This is my kind of garden as the best of both worlds are integrated well into a relatively small site. There's a lovely combination of a whimsical fish pond with floating concrete steps in the back courtyard, plus an informal front yard dripping with produce.
The edibles at the front included vege beds, a range of dwarf fruit trees and a grapevine trained along the veranda. This plot also had raspberries setting fruit - an impressive feat in Auckland's climate. It was a packed weekend with plenty of events on, so we were able to squeeze in only half of the garden picks on offer.
Some gardens had jaw-dropping views and included clever engineering on tricky sites.
A property perched on the side of Mt Eden, another Bartleet design, had an almost vertical garden elevated in a series of terraces and featured a range of path styles that were elegant solutions to a very steep site. The limited palette in the front of the property involved artfully trimmed, sculptured dense Teucrium fruticans hedging, which is really quite a commitment. The owners are planning a terraced edible garden as their next project.
After seeing this garden I looked at my young Teucrium hedge with new eyes and have already taken to it with the shears more severely than I would have dared previously.
The new coastal clifftop garden above Karaka Bay designed by Pascal Tibbits was an appealing use of weathered material and dune-style easy care planting for an exposed site, which would work brilliantly in any seaside location.
Super-hardy native iris, Libertia peregrinans, crept informally into a well-conceived platform of shell and inlaid angular bleached timber sleepers. This property is featured on a new TV series, Kiwi Dream Home.
Next year, I'm looking forward to checking out some of the gardens I missed, such as Xanthe White's edible and medicinal garden in Herne Bay, whose brief included evoking the architectural character of the area and whose owners are lovers of old literature. I'm also keen to see some of the newly planted gardens that will be filling out nicely in a year's time, such as Trudy Crerar's Herne Bay garden inspired by Hollywood glamour and designed to complement an Art Deco apartment landmark, also in Herne Bay.
Arriving home with this whirlwind of gardens in my mind, I looked with fresh eyes at our own small garden, weeds and all- it's a horticultural work in progress. It is an evolution of ideas, of time and of plants; of experiments, trials and errors. I enjoy knowing what inspired this patch, how long it took to dig this path, or where this plant came from.
An event like this is about inspirational gardens, but I challenge the organisers next time to include a wider demographic in the line-up, and more home-made designs that haven't cost a bomb to execute.
Gardens give us a sense of connection with the place we happen to be caretakers of for a brief moment in time. Whether it is the enjoyment of hedge sculpting, picking sun-ripened fruit, or evoking a natural landscape as a reminder of a special wildish place, gardens are creative expressions of the lives and interests of our community.