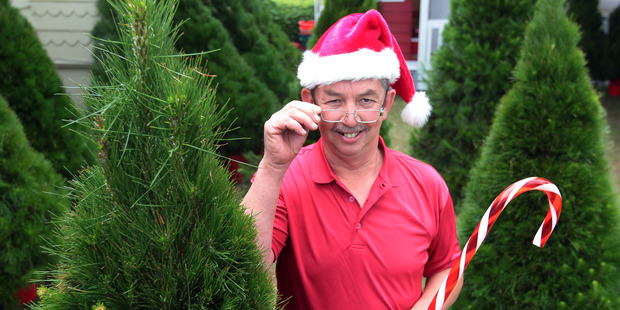 While you're battling the supermarket queues, smiling politely at your relative's bad jokes and trying not to be offended by the office Secret Santa present, spare a thought for the selfless workers forgoing all this fun as they rise to the challenges of their busiest time of the year.
Oh, Christmas tree
Festivity Christmas Trees, 163 Balmoral Rd and various sites around Auckland. For locations see: oliverschristmas.com
Forty-five years ago, Brendan Kell's dad moved the family to Auckland from a farm at Awhitu. On weekends, the family would go to the farm and bring home firewood, turkeys and geese.
One Christmas, Brendan's dad took the live birds in sugar sacks, heads poking out the top, to the Ponsonby Gluepot Tavern to be raffled. A few years later, he added freshly cut Christmas trees. The men leaving after the six o'clock swill headed home with a tree under one arm and a live bird under the other.
These days, it's a slick operation and Brendan tells me he has six sites, as well as wholesale. He prides himself on having the freshest, best-shaped trees in town.
"People don't realise the effort that goes into shaping the perfect-looking tree," says Brendan. "They also might not realise that every tree we sell gets replaced. It's more environmentally friendly to have a cut-tree than a fake one."
Over the busy period, a convoy of trucks heads to the farm at 4.30am so fresh trees are at the sites by 10am each morning.
On a busy day, as many as 600 trees are transported.
"Once upon a time I used to dread Christmas," says Brendan's wife Cheryl, who admits after the first Kell Christmas she wondered what on earth she had got herself into. "But, now I've changed my attitude. Attitude is everything."
"Our first order was back in August," says Brendan. "People ring early because they
want to get the nicest, biggest, best tree."
The family employs university students on their breaks so they can earn extra money towards their tuition. Often, they return 10 years later with their own families and ask, "Remember me?"
"It's a bit like setting up a whole business again each year," says Brendan. "We have to get used to new staff in a short time-frame and get them familiar with everything, then do it again the year after."
Brendan says the best thing about the business is seeing the joy and Christmas spirit when people bring their kids and make a tradition out of buying a tree. He puts out Christmas cake for them on the deck, but admits the staff get sick of the Christmas songs on constant rotation.
Every customer is different - Brendan says some men get sent by their wives and don't know what to look for, while Cheryl says it's the men who are the fussiest.
"We had one man in a [Mazda] MX 5 insist on jamming the biggest tree on the block into his car out of the sun roof," says Brendan. "Another year, an inebriated man tried to buy a tree off us on Boxing Day. I ended up giving it to him for free when I couldn't convince him he'd already missed Christmas."
Finding time to celebrate the season can be hard for the Kell family and their own tree doesn't get decorated until Christmas Eve.
One year, Cheryl had a fake tree and she says that didn't go down well with the rest of the family.
"Christmas is a great time," says Cheryl.
"But, I have to admit that we're all pleased when it's over."
Christmas pav
Southern Kitchen makes meringues, pavlovas and profiteroles, available from Countdown supermarkets, oursouthernkitchen.co.nz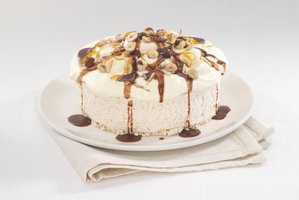 Christmas baking has been in the Fisher family since 1914 when Bob Fisher bought a local bakery in Blenheim for 100 pounds. His grandsons now run Southern Kitchen, which enjoys a 65 per cent increase in sales over the Christmas period.
"We rely on Christmas heavily," says Mike Fisher, the youngest of the brothers in the family business. "If we had 12 Christmases a year, we'd be sitting on a beach in Hawaii."
Production is increased to 24 hours a day when mainly university students, back in Blenheim for the holidays, pick up holiday jobs. Mike says the company rewards its staff well, but he's always surprised how they happily go the extra mile if a late Christmas order comes in.
The Fishers came up with the idea for mini pavlovas, which have become very popular.
However, Mike says the large pavlovas are still a traditional centrepiece at Christmas.
There's also a meringue tower kit and new this year is a profiterole tower kit.
"I've seen all sorts of pavlova toppings. Some people put nuts and chocolate sauce on," says Mike. "Australians love banana and toffee on the top."
He says Southern Kitchen pavlovas are the best because they're simple to cover with their flat top and less fragile than the others in the market, or homemade versions.
I had to ask, does the Fisher family have pavlova for dessert on Christmas Day?
"We do actually," says Mike. "Working with pavlovas all day means we hardly ever sit down and eat one with fresh cream and strawberries, so when we do it's really enjoyable."
Happy hams
For stockists and advice on how to glaze a Christmas ham, head to freedomfarms.co.nz
Freedom Farms has been making its 'happy hams' for the Christmas market for the past
six years. What started as just a couple of hams has ended up becoming the busiest time of year for the company.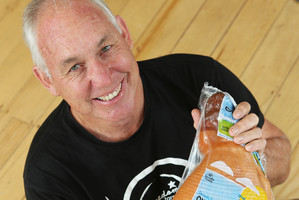 "It goes crazy in the ham business at Christmas. In the month of December we sell as many hams as we do in the other 11 months of the year, combined," says co-founder Gregor Fyfe, who admits planning is how they cope and they put ham legs aside throughout the year.
This year, Freedom Farms has a new product called the Little Honey Ham, which is farmed - with no cages, crates or pens - down by the Southern Alps on an SPCA Blue Tick-approved farm. It comes in a 500g or 1kg size, as opposed to the bigger whole hams at 8-10kg.
"Now, there's no excuse for someone not to enjoy ham at Christmas," says Gregor.
"It's such a tradition and I always glaze the ham and serve it hot as the main dish for our Christmas lunch."
Before Freedom Farms, Gregor says nearly all of New Zealand's Christmas hams came from imported frozen pork that had been intensively farmed.
"You can make ham cheaper by adding more water, but we don't do that. Our hams will not bounce if you drop them," says Gregor, whose curing department is on all-day and all night-shifts over the Christmas period.
But, don't expect any acting up at this company over the silly season.
"They're too busy to be festive while they work and there are very strict health regulations so they don't even wear silly hats," says Gregor.
I ask if he if ever gets sick of ham and he replies: "Hell no! It's the most delicious thing in the world . . . after bacon."
A sweet Christmas
Devonport Chocolates has branches in Devonport, Queen's Arcade and Ponsonby. For locations and stockists see: devonportchocolates.co.nz
Devonport Chocolates is a family-run business and Christmas is its busiest time of the year, when production increases to two shifts and sales account for a third of annual turnover.
The Devonport branch of the business is the picture of festive cheer with chocolate Santas driving cars, chocolate high-heel shoes with holly on the toes, chocolate Christmas trees, vintage Christmas tins and Scandinavian advent calendars.
At the back of the store, visitors can peer through the glass at the chocolate makers
busy with making us all that little bit sweeter this Christmas, including the 1000 internet orders made over the Christmas period.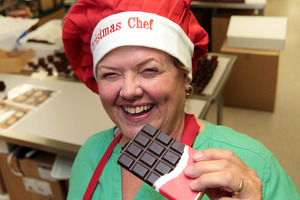 You might notice staff wearing festive aprons, Santa hats and name badges like 'Head Elf'.
Owner Stephanie Everitt shows me around the cool room, where she tells me it's hard
not to be tempted to try something on the way past and that she never gets sick of chocolate, just fussier.
A new flavour for Christmas is the Kiwipav Chocolate Tablet with crisp meringue and dried kiwifruit in creamy milk chocolate.
There's also new flavour Gingerbread and Chewy Caramel, as well as enduring favourites such as Spiced Fruit and Nut, Raspberry Bonbon, Strawberry Crush and Valencia Orange, which are big hits over Christmas.
"A summer Christmas means we need to send our couriers early in the morning or last thing in the evening to make sure the chocolate doesn't melt," says Stephanie.
"A good tip if you're sending it overseas is to wrap the chocolate in bubble wrap and then
tin foil. In a car on a long journey, put it in a cooler bag under a blanket in the boot."
Stephanie's daughter Caroline also works in the business and says Christmas brings an equal mix of cheerful customers and stressed customers.
"It's so close to the end of the school year that parents are often in a rush," says Caroline. "We tend to know what each teacher at the local school is going to receive before they do."
The team works right up until Christmas Eve then has a break until January 6, when it's straight into Valentine's and Easter.
"We love Christmas," admits Stephanie, offering me a piece of salted caramel.
"We think about it all year."