Dionne Christian discovers a new trampoline park that will have you and your kids bouncing off the walls.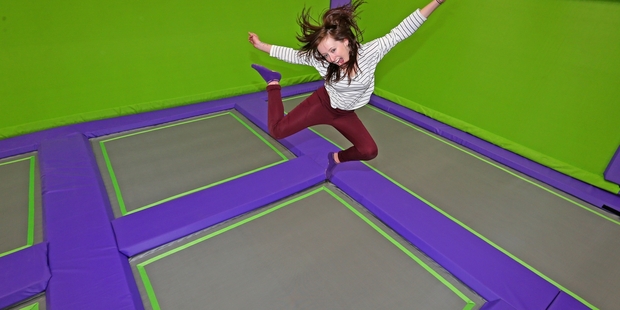 Trampolines, those staples of many Kiwi backyards, have evolved to be safer than ever nowadays, with foam pads over springs, safety nets and limits on how many kids can bounce at one time.
That's great as long as the kids are happy to take turns.
Then there's the issue of what to do when it's raining because bouncing in the rain only appeals for so long.
So it would put a spring in the step of trampoline fans - young and old - if there was a place to bounce to our hearts' content rain or shine.
Thanks to Sandra and David Mu, East Tamaki is now home to New Zealand's first all-weather trampoline park, which opened last month.
It takes an old Kiwi favourite to a whole new level for toddlers to teens and adults who want to re-live childhood fun. Entire families can take the plunge together.
Miss Four was jumping for joy as soon as she heard we were to visit and counted down the days until the family would be there. Jump has hundreds of square metres of interlocking trampolines on the floor and up the walls so the more acrobatic among us can try their best Matrix movie moves.
There's also a 6m foam pit you dive into on a rope swing or from a series of runway-style trampolines; a trampoline dodge ball court and a pint-sized basketball area for slam dunking. Because Jump is brand spanking new, everything looks spotlessly clean and its purple-green-black colour scheme is contemporary, funky and alive. If you're lucky, you'll get to see the floor staff showing off just what tricks can be done on a trampoline.
We tried it all, although I wasn't game to jump from the rope swing into the foam pit and I've got some way to go before I'll be bouncing off the walls. It's a fun way to up your fitness levels but, because you're bounding around with the kids and having a laugh, it doesn't feel like an arduous or boring "this is good for you" fitness-type activity.
But skill and fitness levels don't matter; you can do as little or as much as you like. There's loads of padding and soft surfaces, which is reassuring. I saw dads doing flips, gym enthusiasts perfecting their moves, kids playing dodge ball and my own Miss Four going beetroot crimson in the face as she leaped, ran, bounced and rebounded for a solid hour.
Sandra and David got the idea after visiting similar parks in the United States.
They do birthday parties and, yes, there's a cafe staffed by professional chefs who turn out healthier and more varied dishes than your usual attraction cafes and a good kids' menu. There are also scoop ice creams and free Wi-Fi if you buy something from the cafe. This means parents can take the kids down and get some stuff done. Then again, it's unlikely you'll be able to resist putting work aside and joining in.
You pay by the hour, with the second hour slightly cheaper than the first. When you book online, you can check how many others are signed up for your session to keep things enjoyable and safe by not overcrowding. Safety is very important - you get special "jump socks", which help to provide a better grip and there's also a safety briefing, as trampolining is considered an action or extreme sport.
There are plans for fitness classes, which I'll be trying, and Saturday night discos for teens.
Jump Trampoline Park will have you leaping for joy - especially if you're a trampoline enthusiast or an adult looking after kids with energy to burn.
Need to know
Jump Trampoline Park, 7A Arwen Pl, East Tamaki.
Use the online booking system to sign up for an hour-long session (on the hour, every hour). Monday, Tuesday midday-7pm; Wednesday, Thursday 10am-7pm; Friday, Saturday 10am-9pm; Sunday 10am-6pm. Kids from $10.
* General admission is $16.50 or (if you already have the special jump socks) $15 for 1 hour; a second hour is $10 with or without the socks.
* Mini jumpers (under 110cm) are $10 (with or without socks); a second hour is $7.
* Family pass (two adults, two children) is $50; a second hour is $35.
* 45 minute Jump Fit classes $15.
* Groups of ten are $145 (socks included) plus $13.50 per additional person
Dionne was a guest of Jump Trampoline Park