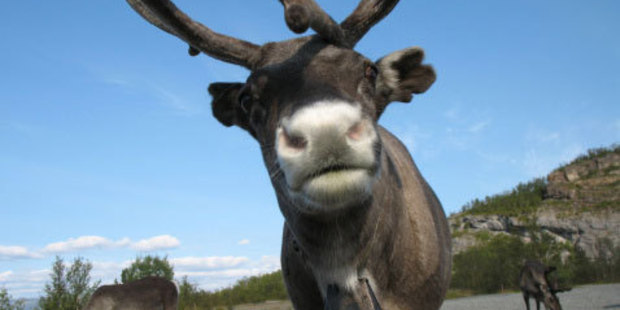 Most people enjoy the sight of reindeer at Christmas. But a dramatic increase in the number of people who enjoy the taste of Dasher, Dancer and Rudolph is putting pressure on reindeer stocks in Finland, where suppliers are turning down requests for the exotic meat for fear of depleting the forests.
Worried that they barely had enough animals to meet domestic demand, reindeer producers there have refused a request from a German company for 100,000 beasts destined for the dinner table, saying there were not enough reindeer in Finland, the national broadcaster YLE reported yesterday.
It is not just Germany left looking elsewhere for reindeer meat: companies from France and Spain had also tried to source the succulent game. Finland is even struggling to meet its own reindeer needs and has had to import at least 10,000 carcasses from neighbouring Russia, where a million reindeer roam the boreal forests of Siberia.
Reindeer is common on menus across Scandinavia.
The exotic meat supplier Kezie reports on its website that demand for the "tender and succulent" meat is so high that it now offers it all year around, selling everything from reindeer sausages and steaks to meatballs and mince.
Animal rights groups, however, are quick to play up the Christmas link. A spokesperson from People for the Ethical Treatment of Animals (Peta) told ABC that "no one likes the idea of eating Rudolph at Christmas". Groups like Peta and the vegetarian activist group Viva! also allege that the reindeer are distressed during the hunting process and claim other wildlife such as wolves and bears are killed to protect commercial reindeer herds.
Reindeer are found across Canada, Alaska, Greenland, northern Asia and northern Europe.
In Scandinavia, they are traditionally herded by the Sami indigenous group, who used to round up thousands of the beasts every year for a migration hundreds of miles north to the summer pastures. The reindeer herds in Finland are now managed by the Ministry for Agriculture and Forestry.
- Independent