Harbourside Ocean Bar and Grill
Address: Ferry Building, 99 Quay St
Web: harbourside.co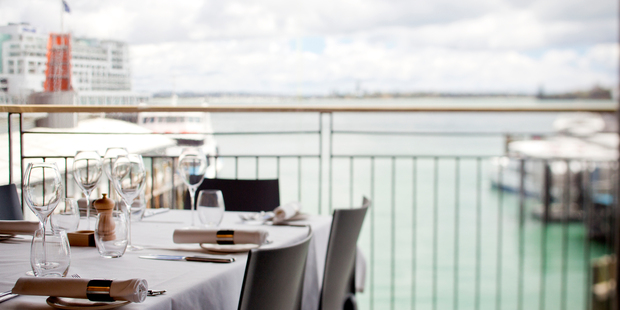 When Harbourside closed for renovations earlier this year, it was looking a little tired and emotional and was in need of a facelift. What a facelift. The interior is now so clean, bright and spacious it looks like a real estate agent's dream.
My only problem was getting into Harbourside. It's not hard, it's just that it presented me with something of a moral dilemma; should I take the stairs or the lift. I like to think I am still too young to take the lift, so I hiked up the two flights of stairs.
I made it to the summit - and what a reward awaited.
On entering, the dining area stretches off to one side and the bar area takes up the other end. The bar is spectacular, designed for ease of use as much as visual impact. The collection of bottles on the back bar is enough to turn the fiercest prohibitionist into a good-time girl.
But the crowning glory might just be the balcony. Stretching the length of the outside, it is, by turn, a fine dining area, a casual dining area and a laid-back, armchair-and-sofa chill-out area that also includes a couple of bars.
All of this overlooks the harbour and the coming and going of the ferries below adds a pleasantly maritime charm to the occasion. What I like about the deck is that it's big enough to accommodate plenty of people without feeling crowded.
Sure, there are some bottleneck areas near the bars but, as long as the business types don't just stand there waving their arms around and talking loudly about how wonderful they are, you'll be fine.
The food is fantastic - as you'd expect from a bar attached to a fine-dining operation - and the service is attentive and friendly, with plenty of offers to top up empty glasses or replace an exhausted plate.
Similarly, the main bar inside has a service level well above the average, and the added advantage of being overseen by James Goggin, bartender extraordinaire.
The wine list is quite small, although the actual restaurant list is much more comprehensive. In fact, there are more whiskies on the bar's drinks list than wines.
The cocktails are gorgeous - I can recommend the Singapore Sling - and overall, it's a great addition to the city's bar scene. It isn't a cheap night out, mind you - the platter for two weighs in at an eye-watering $129.95 - but then, if you're heading to Harbourside, that's probably not an issue anyway.
Scores
Service: 4.5
Menu: 5
Drink: 4.5
Atmosphere: 5
Overall: 5