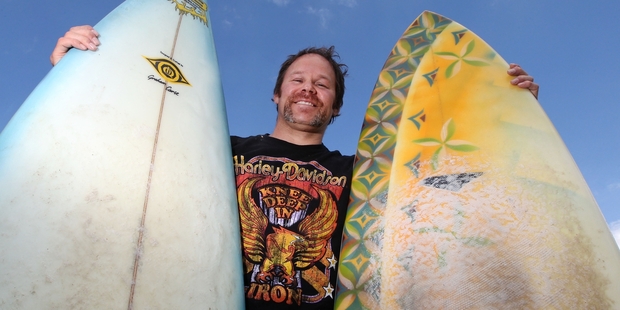 My happy place is surfing. It relaxes me. If I've had a good surf I deal with stuff a hell of a lot better. I love that feeling at the end of a day of surfing when you have a beer and you've got that ache from having had a workout and you know you'll sleep well.
I first discovered surfing at a beach called Oruaiti on the East Cape when I was 14 or 15. Dad built a house truck and we cruised around on it for a couple of months. There was a kid there with a surfboard and I asked if I could have a go. I ended up using it every day, and when we got home I asked Dad for a surfboard.
I grew up in Hawke's Bay so I surfed at Waimarama, Ocean Beach, Cray Bay, and all the Napier places like Awatoto and Haumoana. When I went down south for university I didn't surf for three years. When I discovered how close the beaches were and how good they were, my surfing kicked off again, and then rugby kicked off, and they got on really well together. I would use surfing as part of my training.
Allans Beach in Dunedin was pretty special. You'd pull up on the edge of a farmer's land with an inkling that it would be pumping, but you wouldn't know for sure. You'd have to go across his land and down on to the beach and do a 20-minute jog to the end of the beach, past the seals and penguins and sea-lions. The whole way you didn't know what you'd get, and the wind was howling and you and your mates were getting hyped and thinking, "Oh, it's looking good, it's looking good". And then you'd finally get down there and it would be just amazing. It's really deep-blue, crisp, clear water. It's invigorating.
Once I decided I couldn't play rugby any more, surfing was the closest replacement I could get. I think rugby players crave the physicality when they stop playing. I know I do.
Surfing has that physical and fitness aspect, and it beats you up a little bit too. And there's the skill aspect and the flow you get from playing rugby. And because the environment's constantly changing and no two waves will break the same, you have to read each situation as it's evolving, so there's an analogy there with rugby, too.
I've got two boys, aged 4 and 11 months, so I've only had about two surfs in the last month. I do miss it, but I love hanging out with my boys. I can't wait until I get them to an age we can go out together.


Josh Kronfeld is an ambassador for Movember, an annual campaign in which men are challenged to grow a moustache while raising money for men's health.
Donate at nz.movember.com.