Herald Rating:
4/5
Address:
111 Clyde Rd, Browns Bay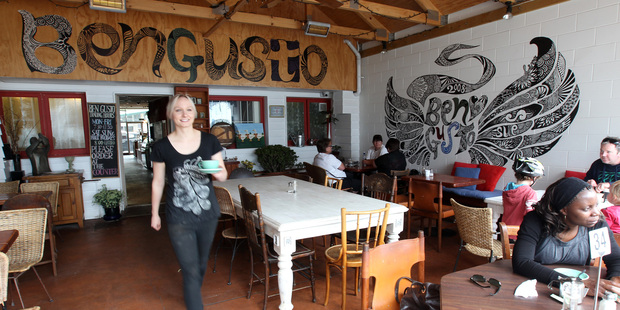 Ben Gusto is way down the end of Browns Bay and accessible either from the main shopping street, Clyde Rd or Beachfront Lane. The name alone was enough to lure us. That and the website, which also advertised a Ben Gusto T-shirt for sale - an unusual touch.
Foodwise, the cafe offers something for all levels of hunger, with appealing-looking cabinet food and a fairly standard brunch menu - but it is the selection of waffles and the to-die-for gelato cabinet that will really get your taste buds revved up.
Seating is divided into three areas, the relatively narrow dining room in the front, a roomy space in the middle adorned with Ben Gusto's elaborate logo (as on the T-shirt) and an outdoor space covered with clear awning - particularly favoured by customers with four-legged friends during our visit.
The decor is welcoming, with an eclectic collection of framed art and photos.
If a cafe can be judged on its environment, BG rates well.
We ordered the eggs benedict with bacon and hash browns ($15.90) and the big vege breakfast - poached eggs on focaccia toast with sauteed spinach, fried mushrooms, avocado, hash browns and roasted vegetables and hollandaise ($17.90). So good that conversation was forgotten as we tucked in.
The most unusual thing on the blackboard menu was supposedly for kids - a "Grand Alligator" of two waffles and four gelato scoops.
The coffee is Ben Gusto's own blend, apparently roasted twice a week. It was a fine brew.
The service was attentive and welcoming.
Next time - and there will be one - we'll investigate the Alligator.