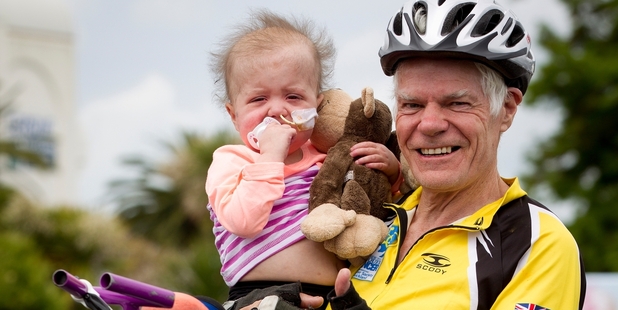 A two-day bike ride might not sound like too much of a mission to most people - but it's another story when you're on a unicycle.
Aucklander Bryan Page was among more than 600 people who took part in The Ride to Conquer Cancer event at the weekend, raising funds for cancer research.
Like everyone else, he crossed the finish line easily - but he was the only person to do so on one wheel.
As he rode in on his unicycle, the large crowd at the finish line got to their feet, cheering and clapping. A participant called out: "How about that last hill, eh?" Mr Page replied: "I was shattered. I was going to pull out. Then they got a whole lot of vaseline for my backside and I was good again."
The 61-year-old was inspired to sign up to the bike ride after his two-year-old granddaughter, Alexis Thrush, was diagnosed last year with a rare childhood cancer, Juvenile Myelomonocytic Leukemia.
Alexis has since had a bone-marrow transplant and been in and out of Starship Children's Hospital undergoing chemotherapy treatment. She is now in remission.
Choking up, Mr Page said seeing his little girl suffer had been difficult.
"She's a miracle kid. I just looked at her and thought, 'What can I do for her and for everyone else with cancer?' I heard about this and knew I had to do it to help raise funds for cancer research and for all the families who have gone through what we went through."
Mr Page, who raised just over $3500 for his efforts, said it was a "no brainer" to complete the ride on a unicycle, as he had been riding them since he was a boy.
He took part in the Unicycle World Championship competition in Italy last year.
Alexis' father, Luke Thrush, said his father-in-law had been a great source of support and motivation for him and his partner, Kristin Page.
"I'm very proud of him. He's been a great support to us, with everything that's happened with Alexis, and he's a great grandfather."
Yesterday's event pulled in $2.1 million for Cancer Society Auckland.
Chief executive John Loof - who was also out on his bike on the weekend - said the money would go towards medical research programmes and clinical trials.