Each week Rachel Grunwell tries a new fitness challenge to bring you the lowdown.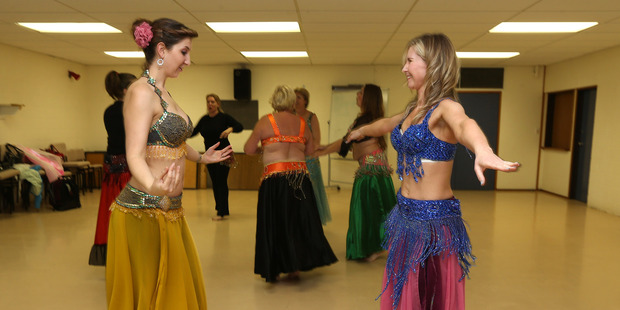 Belly Dancing
What is it? A dance from the Middle East.
What's needed? Comfortable casual clothing, bare feet. At performances, students wear a full satin/chiffon circle skirt with harem-style pants underneath, hip scarf and midriff-showing bling top.
The experience: Belly dancing is one of the oldest forms of dance. This dance was traditionally done by women, for women, at events, says dance teacher Candice Frankland, 29, who has performed this ancient art form for nine years (teaching for six).
Originally from South Africa, she ditched her former life as a business analyst (with honours), to follow her passion and make it a business. She says this career makes her happiest and also makes others smile.
"You can't walk out of one of these dance classes and not be in a good mood!" she enthuses.
She says this dance was once viewed as a "fertility ritual". Some reckoned way back that it'd strengthen the pelvic floor.
Belly dancing-inspired movements are seen in Egyptian hieroglyphs, while gypsies are known for wearing coin-belts along The Silk Road in the Middle East. They are known for having sewn coins and jewels into their clothes, which tinkled when they walk.
But it's the "movie era" where the belly dancer has been modernised and made super-sexy.
They used to never show their midriff, but Hollywood introduced "the two-piece" so it's easy to see the belly's small and contained movements - and more flesh.
On stage nowadays, the costumes and moves are even more elaborate and bold, says Candice.
Speaking of which, when I meet her she looks like an Arabian princess in her bejewelled bra and full-circle skirt. She's beautiful, with olive-skin, glossy long auburn hair and an infectious laugh. I could be in a class with her in Egypt, but I'm in a hall on Auckland's North Shore.
When her beginner class hears I'm coming along to check out what they do, they enjoy "an occasion to dress up!", says Candice. And I join in on the fun, too.
This dance is enjoyed by those of all levels of fitness, ages and backgrounds - from a 20-something to a 60-year-old grandma.
Candice says she even privately teaches a delightful 12-year-old with Down Syndrome and a woman aged in her 70s. Her advanced ladies come from diverse professions and are learning to perform with swords.
The female students (no men here) tell me this dance keeps them fit and it's social. Many make their own elaborate costumes.
Rachel Aitken, a personal assistant, delights in dressing up "and finding my sparkly side". While Carol Arnup, a hairdresser, loves that she can come along without a male dance partner. She tried another style of dance a while back "but you had to dance with a man ... and it ended up feeling like a cattle call". However, she does bring along her son's girlfriend, Jenny Richardson, a pet-shop worker, and they both enjoy the night out and have a few laughs.
Dori Bestmann, a business development manager, says when she tells friends she's a belly dancer they often mistake her for saying "ballet dancer", so she corrects them.
She loves the dance and has been doing it for years.
During the class, we all do snake arms, hip drops, hip and shoulder shimmies, the camel (doing wave-like movements with the entire body), turns and steps, I snap my hips and jiggle, and even do twirls. Later on, we all attach fairy wings to our arms and I feel like a little girl again.
Candice shows us how to do a dance step-by-step and by the end we piece it together with music, pretending for a moment that we're Egyptian queens.
How much? $15 casual class, 10 concession card ($120).
Worth it? Good for posture, the abs and moving with grace. It's social and you don't need a partner to go. You should be brave enough to expose your midriff by the performance stage.
Try it: Mary Thomas Centre, Gibbons Rd, Takapuna (beginner class Tuesdays 6.30pm-7.30pm), www.phoenixbellydance.co.nz
Rating: 9/10