Don Kavanagh watches bartenders pit their skills against each other.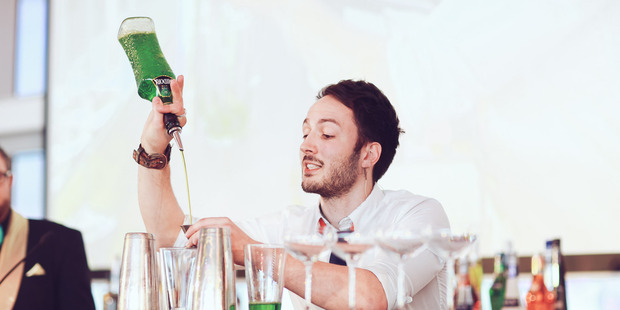 Have you ever been kidnapped by balaclava-clad young women and men wearing horses' heads? No? You haven't lived, then.
I ask only because that happened to me recently after I - perhaps rashly - accepted an invitation to get a close-up view of the Beam Bar Legend, a bartending competition of such comprehensiveness and daunting expectation that I sometimes wonder why anyone would enter it in the first place.
This year, almost 500 masochists put themselves forward for the challenge and by the time I caught up with proceedings there were only six left, which brings me back to the kidnapping and the horses' heads.
I'm still not entirely sure what the horse thing was all about, but it may have something to do with a plan to smuggle certain bottles of Stolen Rum into Australia using rum mules. It's probably more complicated than that, but I had been trying a lot of cocktails that day, so you will forgive me if my memory isn't as sharp as it might be.
The rounds of the competition I watched were intense. There was a two-minute bar banter round, where the contestants had to talk for two minutes about a randomly chosen topic while making a drink, which is harder than it looks.
In the dinner challenge the six finalists matched their creations with food from the kitchen at Merchants of Venice and, to cap it all off, there was a live final in front of 200 people at The Cloud.
What it really brought home to me was how good the standard is getting for bartending here. And not just Auckland - there were finalists from Wellington, Christchurch, Napier and Invercargill.
To be a good bartender you need to be a mix of many things: politician, priest, pal and physician. You need to be able to put people at ease, make them feel better about themselves and the world and you need to get them to come back to your bar. It's not easy, especially when you have to make really good drinks as well. And that's what I really liked about the Beam Bar Legend competition - it's local, it's comprehensive and it's not just about making pretty drinks; it gets to the heart and soul of being behind the bar, the one whose guidance and guardianship of the drinks dispenser makes all the difference to whether or not a customer goes home happier or simply poorer.
So, congratulations to all involved in organising the competition; it must have cost a fortune, with the top prize package of $25,000 being a mere fraction of the total bill. And a special mention to Adam Neal, the engaging Scot who took out this year's title. He normally works either in Racket or Orleans, so feel free to congratulate him, but at the same time feel free to ask him to make you a spectacular drink. After all, he's not just a legend, he makes pretty drinks, too.