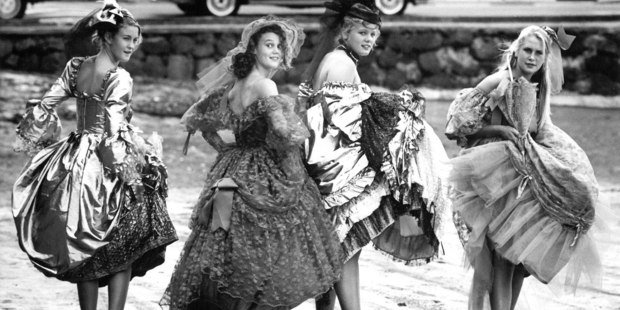 At first reluctant to don the flowing frocks, four North Shore teenagers were soon parading around Takapuna in their fancy dress.
From left, 15-year-olds Toni Hadlee, Macayla Chapman, Sophie Mace and Nikki Gillies strut their stuff in 1991. The girls wore the gowns to be on a float for the eighth annual Jazz and Blues Festival parade.
Mace says the photo shoot on the beach was unsuccessful as none of the girls were models, making the posed shots look weird.
"When we were walking back to the Mon Desir Hotel with our skirts hitched up in an unladylike manner, the photographer just yelled out, and got his front page shot.
"I remember my mum being shocked I was wearing my Doc Martens with the gown. Toni rolled with bare feet, even better."
Hadlee's mother was involved with the North Shore City Council, so Mace says the girls were often roped into community work. "Silly me, I always said yes," she chuckles.
Chapman admits the four were not keen to dress up at first, but Hadlee pleaded with her best friends to join in. "Toni said to us, 'Come on, Mum really needs us to help'. We were like, 'Urgh, yeah, okay'.
"I remember Nikki was quite stoked because she got the blue dress and her eyes were blue. I got the red, Sophie was in silver, and Toni was in gold."
And it was an intricate friendship circle, with links between the four established through school, the sea and the ski field.
"Sophie and I went to Diocesan together and met Toni through skiing at the club on the Whakapapa site on Mt Ruapehu," Chapman says. "Sophie left Dio in fifth form to go to Westlake Girls', where Toni and Nikki were really good friends. And then Nikki and I did surf lifesaving together, so we all just sort of hung out and were really good friends when we were young."
Chapman says over the years the friends lost contact, but she has seen a couple of them recently by chance.
"We always say we'll catch up but you just never get around to it. I'd love it if we all could at some stage though."