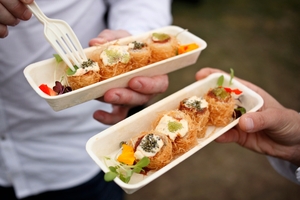 1. Eat
Taste of Auckland's fifth year has a delicious mix of old and new restaurants, sampling dishes from $8, and plenty of artisan food and wine producers in Victoria Park.
2. Eat some more
Head to Hillsborough/Mt Roskill for dishes from 29 ethnic eateries, in the Taste of Puketepapa.
3. Love
The smell of roses in the air with the annual Parnell Festival of Roses: there are market stalls and food, but just calm down in one of the best displays of old-fashioned charm in the city.
Or check out 25 top designer gardens in the Garden DesignFest.
4. Gawp
Sculpture in the Gardens at Manurewa's Auckland Botanic Gardens has pieces the kids can climb and explore and vibrant works from artists. On until February 2014. Worth a revisit to see seasonal changes.
5. Say hi to the fat guy
Yes, Santa and mates are in a street near you - Glen Eden (today 2pm), Glenfield (tomorrow 11am). You've been warned.