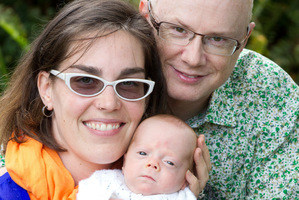 NZ Neonatal Trust relies on donations to support families and fund research

Greg and Amy Hewgill know all too well the troubles faced by parents of premature babies after watching their daughter, born 11 weeks early in a Chinese hospital, connected to machines for the first 76 days of her life.
Lily weighed just 990g when she was born as her parents made their way back to Auckland after a holiday in Europe in July.
She spent the next seven weeks in an incubator at Shanghai children's hospital with Mrs Hewgill by her side to supply milk, while Mr Hewgill returned to New Zealand to raise funds for Lily's care, which had to be prepaid.
The couple - who relied on more than $100,000 in public donations to bring Lily home to New Zealand - are now raising awareness for World Prematurity Day tomorrow.
It seeks to raise the profile of neonatal health, infant mortality rates and the organisations supporting families with preterm babies.
The Neonatal Trust New Zealand supports Kiwi families dealing with preterm babies and funds research and professional development for neonatal staff.
The chairman of the trust, Alastair Hutchins, said the organisation relied on a minimum of between $250,000 and $500,000 of public donations per year.
"On the surface people might think 'what's the big problem with premature babies?', but it is the single biggest killer of newborns - if a baby doesn't get to its 40-weeks term, anything below that is a challenge to its survival."
Nearly eight in 100 babies are born prematurely each year in New Zealand, according to Ministry of Health Perinatal and Maternal Mortality Review Committee data.
The rate has increased by 2.1 per cent in the past 20 years, a statistic concerning health professionals when preterm birth is responsible for nearly half of all newborn deaths and is the second leading cause of death for children under 5, behind pneumonia.
New parents are never prepared for the challenges of having a premature newborn and the Neonatal Trust tries to cushion the experience for them, said Mr Hutchins.
"It's extremely stressful for them. We look to see how we can support those families - from assisting with costs, connecting them with other agencies or giving them a keen ear to give them confidence.
"There is a huge amount of unknowns."
Mrs Hewgill said the trust supported them while Lily spent close to a month in Starship children's hospital, and also supported Mr Hewgill when she was still in China.
"They have been an enormous resource to us offering us their services and supporting us in general."
Lily will be 4 months old on Tuesday, weighs 3.3kg and is developing at normal rates, but the trust helped the family through an emotionally trying time, said Mr Hewgill.
"The surprise and unpreparedness is the first thing you encounter - no one really prepares for this kind of thing - and the uncertainty while the baby is in care," said Mr Hewgill.
"When I was here and Amy was still in China and I needed to call and talk to somebody, the contact I had was willing to take my call at 10pm and have a chat about what I was going through."

• Donate to The Neonatal Trust New Zealand at neonataltrust.org.nz.