Herald Rating:
5/5
Address:
203 Jervois Rd, Herne Bay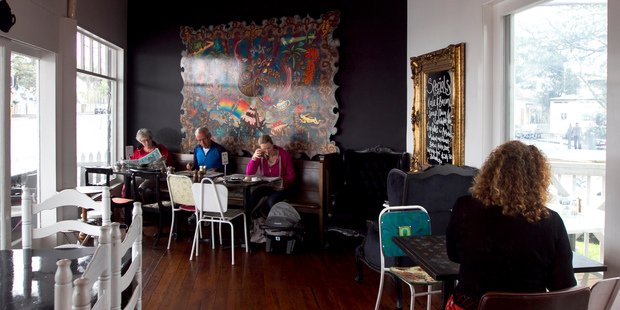 The menu had a cute Alice In Wonderland theme, opening with "begin at the beginning". It featured healthy options like the free-range egg white omelette as well as more decadent brunch fare like coconut almond french toast with whipped honey butter and bacon.
The look was what drew us in. It had a cute little facade, packed with patrons and their pooches. The small sunny courtyard out the back had a hint of water views.
The food was mouthwatering. My massive Mad Hatter's mince on toast with a poached egg ($16.50) and sides of roasted tomatoes ($4.50) and grilled haloumi ($5.50) inspired by other diners' meal choices and was the subject of food envy from my companion. However, he was very satisfied with the cutely named Jabberwocky big breakfast , which came with all the trimmings - eggs, gourmet sausage, bacon, mushrooms, tomato, potatoes and toast ($22.50).
The coffee was so nice I had to tell the barista on the way out. Turns out it was her first day and she was stoked.
The service was really chipper.
Overall our seat and meal selection made this place a winner.