A trip to most hotel bars is as depressing as it gets, writes Don Kavanagh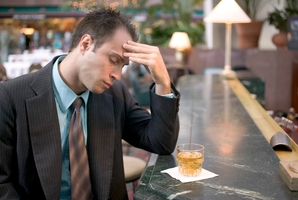 Is there any place more depressing than an airport bar? There's the palpably fake ambience, the grotesquely overpriced drinks, the sort of service you'd normally associate with the more antisocial government agencies and then there is that damned kid who just won't shut up. As a foretaste of hell, the average airport bar has few rivals.
However, I can think of a place that makes even the Bach Alehouse at the Auckland domestic terminal seem like the sort of hip and happening nightspot that Jay-Z might be spotted at rather than a holding pen for those having one last drink before getting on a plane to Palmerston North. That place is the average hotel bar.
In all my years of globetrotting and drinking (the former often actually caused by the latter), one feeling that I can never shake off is that dread of popping your head into a hotel bar.
All human misery is there: the dead-eyed look of resigned acceptance on the bartender's face, who now realises he should have gone to university; the brittle-looking woman nervously hoping her smartphone and her underpowered G&T will stave off the unpleasant sexual ambitions of the overpoweringly cologned sales rep sitting at the next table; the little bowls of snacks that are supposed to be a welcoming offering of hospitality but always end up causing a terrible existential angst that other people have been pawing them all night.
It's a veritable compendium of dismay and disappointment.
Now don't get me wrong, there are some fantastic bars situated in hotels. The Sky Bar in Kuala Lumpur has possibly the finest night-time view anywhere. The Long Bar at Raffles is still the ultimate in white-linen-suited excellence, and the grill at Jury's Hotel bar in Dublin has traditionally contained the finest collection of well-behaved drunks in the known world.
Even here in Auckland, the Bellini Bar at the Hilton is lovely, as is the bar at the Langham. Hotel Debrett's Housebar is another great spot, and the Club Bar upstairs at the Spencer on Byron is a great place for a quick drink before dinner in the restaurant. And I had a lovely afternoon recently (honestly) at STK in Rydge's Hotel in Federal St, sitting at the bar and talking to complete strangers over a few frosty beverages. But such heights of excellence are few and far between. All too often the average hotel bar is simply a slightly modern version of the one in Fawlty Towers - opening at capricious hours, staffed by underpaid workers fizzing with surly resentment, and peopled by those you would normally travel a great distance to avoid.
You probably know all this, but I needed to get it off my chest. And to say that almost any bar near a hotel is likely to be a much better bet, since it will be full of people who have fled from the threshold of the hotel bar. People just like you and me, in fact.