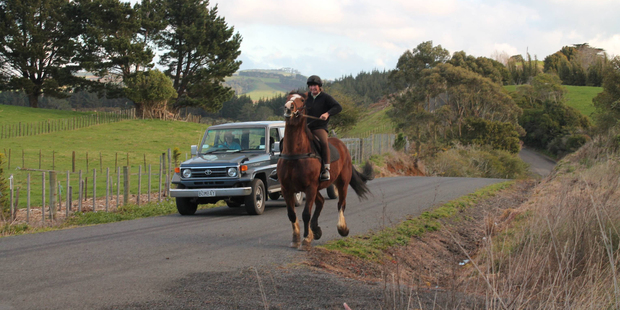 My mid-life crisis entailed buying myself a horse and taking up riding again.
Most Wednesdays I have a show-jumping lesson at an arena located four driveways along from where my horse lives in rural South Auckland. Instead of riding the short distance, I choose to load my horse onto the horse-truck and drive the kilometre or so down the road.
It's certainly not laziness that fuels this decision because by the time I've driven there and back, got the horse on and off (twice), cleaned the horse-droppings out of the truck, hosed down the truck and swept it out, far more effort is involved than if I'd simply ridden there.
Safety is the big issue. Partly it's the narrow grass verge on offer but mainly it's the fact that motorists regularly roar down this road without altering their behaviour to acknowledge the presence of horses.
Many drivers these days don't give horses the respect that riders think they deserve.
In fact, many drivers don't give horses the respect that the New Zealand Road Code specifies either.
Under the heading "Sharing the road with horse riders", the Road Code says: "Please show courtesy when sharing the road with horse traffic. Horses can take fright easily, so adjust your driving as soon as you see horses on the road ahead of you." I haven't witnessed many examples of that happening.
This is some of the specific advice to drivers: "Slow down and pass carefully, giving the horse and rider plenty of room," "Don't sound your horn, rev your engine or pass at speed, as this could frighten the horse" and "If the horse appears frightened, stop." Drivers are warned to: "Be careful around horse traffic. If you aren't, you could be charged with careless or dangerous driving."
Part of the problem is that many people (understandably) aren't familiar with horses and do not appreciate what even the most unflappable, experienced, traffic-savvy horses are capable of. They are unpredictable animals. One might not bat an eyelid at a vehicle with lights flashing and sirens sounding passing it but might fall to pieces when it hears the rustle of a plastic bag. You can never really be certain what they'll do next. It's even possible that in a state of panic they'll step into the path of whatever has upset them. And this is precisely why horse-riders wish motorists would proceed with caution and consideration.
Playing it safe on our roads has plenty of advice for how riders can be safer on the road - as does the article in November's NZ Horse & Pony magazine which recounted the harrowing tale of an Auckland teenager whose horse had to be destroyed after a hit-and-run accident in which it spooked at a passing truck and was clipped by the truck's steel mudguard.
Riders can plan sensible routes, familiarise their mount with traffic in safe surroundings, wear high visibility gear, ride in single file and acknowledge considerate driving but it's time that awareness was raised in the wider and non-horsey community. There seems to be a lacking of understanding that horses and their riders are entitled to use the road as well. And, because it's become so dangerous, there's a feeling that fewer people are riding along the road which, in turn, is making drivers even less familiar with how to behave on the odd occasion that they do encounter a horse.
I'm not holding my breath for the moment that motorists finally decide to treat horse-and-rider combinations as if it was their own family member on board. I have such little faith in the ability of motorists to alter their behaviour around horses that I intend to continue trucking my horse to lessons little more than a stone's throw away. After all, I experience enough hair-raising moments in the jumping arena; I don't need to spice up my life further by venturing out into traffic that seems unwilling to accommodate us.
Do you understand the precautions drivers are required to take when sharing a road with a horse and rider? Do you slow down and give them a wide berth? Are you a horse-rider who has been at the receiving end of inconsiderate or dangerous driving?